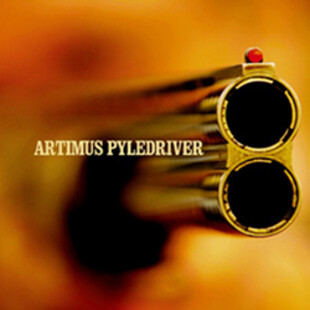 Now here's a band who aren't afraid to label themselves. Describing themselves as "Heavy Southern Rawk", that is exactly what Artimus Pyledriver do and with all the stereotypes that go with it. Lyrics with reference to pick-up trucks, necking whiskey and getting high are all present and correct. Their merch features eagles, Confederate flags and silhouettes of naked chicks, and the shotgun on the cover of their debut album just about tops it off. But somehow with Artimus Pyledriver it all seems genuine as they rock so damn hard.
'Swamp Devil' gets the album of to a ferocious start with the fastest track on the album and its clear to see what Nashville Pussy see in this band, having taken them on tour more than once over the last couple of years. Thankfully, Artimus Pyledriver seem to have a few more strings to their bow than Nashville Pussy. The second track, 'Dixie Fight Song', is a much slower, groove-laden number which sets a more accurate tone for the rest of the album.
Standout track for me is 'High Life', starting with it's Skynyrd-esque slide guitar lick which gives way for a lone fuzzed up guitar riff before the thundering drums kick in with the now familiar rasping vocals.
Artimus Pyledriver are hardly breaking any musical boundaries. There are plenty of other bands around doing a similar thing - Alabama Thunderpussy and Beaten Back To Pure spring to mind. However, I don't think there is anyone doing it quite as well as this band and if there is, I want to hear them! And with the healthy live reputation they are building up on the other side of the pond, this is one band I won't be missing given the chance. Lucky then, that there are rumours of a tour with Nashville Pussy in the near future.
Unfortunately these days I don't get to listen to as much music as I would like and the majority of my listening is reserved for the car. I don't have a hot rod or a pick-up truck, but this album makes it far easier to imagine.