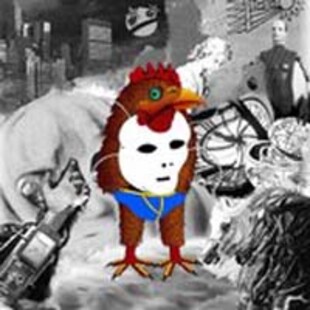 This three track effort from Leeds-based Chickenhawk is an interesting one. Borrowing heavily from the Melvins, Mike Patton and punk rock, this could be seen as a joke, but taken as intended, it's a dumb, balls-out selection of tracks from a band who seem to pride themselves on stupidity.
The tracks have no name it seems, but vary in style even in the fifteen or so minutes the demo lasts for, the first track starts with feedback and guitar squeals, before descending into a fast fuzzed-up rock workout. The vocals here are screamed and yelped at irregular intervals and makes for a great introduction to this group of obviously mentally unstable people.
The track ends with a desert-rock style drift and grinds to a halt before the second track shows much more promise and really shows what they can do, its squealing guitar intro giving way to a very stoner riff, reminiscent of a more slapstick High On Fire. The vocals here are again the screamed ones, which sound like the kind of stuff Mike Patton has done in his numerous side projects over the years, before going into an American-style drawl that really suits the bands' sound.
The last track is like a dirty tramp bothering you for change with intent, sticking his grubby fingers a little bit too close to your face, fast and so stoner it hurts, its defiantly a belter. With whispered as well as whiskey soaked vocals, it shows this band aren't all about silliness, they can write a mean song as well, even the scale-mashing solos don't matter. The track continues at a similar pace until it stops suddenly and you're left wondering what just happened.