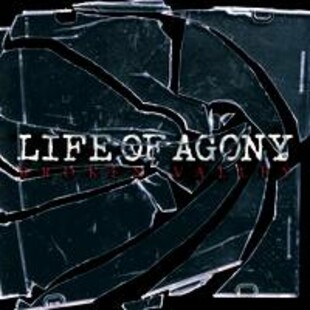 This has been a long time coming and there's a certain nervous tension as the disc is placed into the CD player and the speakers begin to push the air. Life of Agony were a part of my musical upbringing and though I don't listen to them as much as I once did, I still hold them up there with my best and favorite. Will this be a bitter dissappointment?
Thank fuck, no!
Fortunately, this album follows the trend of progression shown on their first three releases. Each one being a distinct step forward whilst retaining a quintessential Life Of Agony sound. This is Life Of Agony circa 2005 and it's cool. They haven't fallen for either of the comeback cliches. There's no sad ass return to thier roots "we've always been hardcore man!" and no lame attempt to jump a current trend. No Nu-, no Scremo, no emo, no Metalcore just Life of Agony.
The opening section of the album is certainly the strongest after a few listens. The first track 'Love to let You Down' comes straight at you. The first line "Willing to start again, willing to give another try". Spot on. Keith Caputto's voice, that familiar guitar sound, that certain vibe; it's Life Of Agony alright but, there's a freshness to it also, a newness.
Next track 'Last Cigarette' has a nice chugging riff in a Queens Of The Stone Age kind of style. Fast, upbeat and groovy with some nice guitar breaks. Third track 'Wicked Ways' certainly has an 'Ugly' era vibe to it. A slow grinding riff leads the tune on into each chorus in which Capputo drawls 'Should have known what those wolves had wanted' while Joey Z's guitar wails in the background. Nice!
There are familiar sounds and themes throughout, 'River Runs Red' style riffage, 'Soul Searching Sun' style choruses and 'Ugly' era lyrics. There is plenty to enjoy here for fans of the earlier stuff, and new comers alike and this album is probably capable of winning them a few new fans.
There are a few minor cases of dodgy lyrics and some slower numbers ('No One Survives', 'Justified', 'Broken Valley') that change the pace towards the end. The slower numbers aren't bad songs, but they do seem a little out of place after the storming first half.
The expectations of many long-term fans (like myself) are undoubtedly high and this will probably never be good enough for some. But, overall this really is a great album and I'd certainly recommend it for the open minded Life Of Agony fan and the new comer alike.