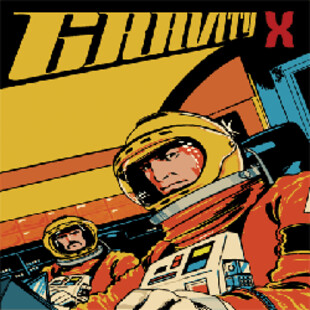 Right, lets get this straight from the start. 'Gravity X' is one of the best stoner rock albums I've had the pleasure of hearing in a long time. There's nothing 'new' on offer here, opting to stay inside the already defined boundaries of the genre. But instead of sounding tired or too much like their influences, Truckfighters have utilised everything that is good about the style of music and produced a fresh, exciting and thoroughly enjoyable album.
There's a familiarity to everything about 'Gravity X' that, when put in context of the fantastic music on offer, is almost heart-warming, rather than off-putting: from the song titles - 'Desert Cruiser', 'Freewheelin'' and 'In Search Of (The)' (to name just three) - to the Sky Valley-aping sleeve note directions that include listening "without distractions."
Yet while the music does bring to mind the most obvious of stoner rock comparisons - from the melodic beauty of Queens of the Stone Age to the fuzzed out harder hitting edge of Fu Manchu - there's never any point where you feel like you're listening to watered down imitations of others. Truckfighters just take the best of the genre, apply superb songwriting and create magical songs.
Everything is right about 'Gravity X', from the delightful packaging to the spot-on production job. Recorded in a Swedish bomb shelter, the resulting sound is one of fuzz guitar bliss, with enough depth to maintain the essential heaviness. And the riffs - the sublime riffs - they litter the album with wanton abandon. Mixed together with the mellow, acoustic moments and you're left with an album you'll fall in love with within a listen or two.
Okay, maybe not everyone will be convinced. There are those who think the genre, without innovation or variation, has been exhausted and dried up a while ago. For everyone else, I suggest getting this album immediately. Hell, even if you are one of those people, being proven wrong surely never sounded so sweet.