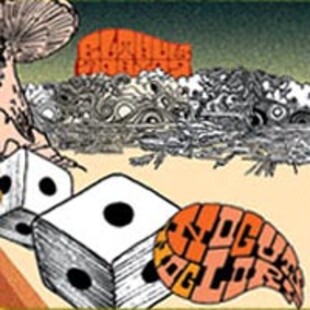 Never judge a book by its cover - a cliche, I know, but one which you occasionally need to remind yourself of so as not to have pre-conceived notions of what you are about to find out anyway. From what I had seen of El Thule on their website and CD cover - naked women, drug references, a kind of Yellow Submarine-esque feel to the artwork - I thought I had the music pinned - straight up unimaginative stoner rock was a strong possibility, I believed.
Then I stuck the CD on - bam - presumptions instantly proven wrong. Because, while No Guts, No Glory certainly can claim to contain what we all know and love as stoner rock, it has been infused with a large portion of another genre of music - punk. And before you entertain any ideas of Discharge-inspired, Dukes of Nothing-style beer-soaked head-rushes, I'm talking melodic punk. Yep, bands like Descendents, Millencolin, anyone on the Fat Wreck Records label...Pennywise!?
No, don't stop reading. Because while this stoner-punk may sound like an aural disaster, the result is surprisingly good - no, better than that - all-out brilliant. I don't know what it is - the punk bands I mentioned hold no interest to me, and the only bands I can think of who could pertain to be in a field anywhere near that of what I have explained - The Dwarves and (El Thule's future tour mates) Zeke - don't exactly get regular plays on my stereo either. Yet, after listening to this album over and over, I absolutely love it.
There's two main style of tracks on No Guts, No Glory, to simplify it somewhat - the tracks which sound like a melodic punk band who have discovered Fu Manchu's early albums and added the guitar-fuzz and a couple of solos to their sound, and the tracks which sound like early Fu Manchu after hiring a melodic punk vocalist.
The first of these, best exemplified on the outstanding 'Fire and Skull Breath', rush past in a blur before arriving at huge anthemic choruses that demand to be shouted along to. The second style is more akin to (but still many miles away from) the stoner sound we are accustom to. 'Chromatic Mountain II', for example, benefits from its simplicity with one huge riff dominating the song throughout - Scissorfight would be proud to call it their own.
There are other brief influences on the sound noticeable - 'The Growl' begins in a distinctly Isis style manner. 'Sombrero Galaxy', probably the album's greatest moment, begins with moog-infested feedback and vocals, contains vocalist Mr. Action doing his best Jonah Matranga (of cult-emo band Far) impression, and, after seemingly coming to an end, changes direction and explodes back to life with an emotionally charged ending.
True, this won't appeal to any narrow-minded doom fans out there. But to everyone else - this is a consistent (there's not one weak track), varied, technically excellent, possibly unique thrill that you do not want to miss.