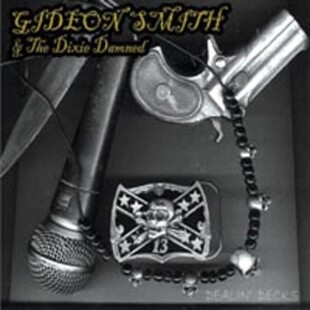 Gideon Smith and the Dixie Damned are little known on our side of 'the pond'. Hailing from North Carolina, the band released their debut 'Southern Gentlemen' on the excellent Small Stone records label in 2001. Reminiscent of other bands from the southern states of America, in particular Five Horse Johnson, it is an enjoyable, rocking album.
On 'Dealin' Decks', an EP released on Italian label Scarey Records, the music has changed ever so slightly - gone are the slide guitar moments that, probably lazily, bring reviewers to add Lynyrd Skynyrd into the already-Sabbath infused mix of comparisons for all music from this area of the world. What we are left with is a core of fuzzed-up stoner rock riffs and solos that aren't exactly the most original of sounds, but certainly hit the mark.
All this is led by apparent livewire Gideon Smith. Coming across like Neil Fallon with an Elvis obsession, Gideon adds a flair to a number of the tracks. 'Breaking Hearts and Horses', where Smith comes across like the King himself (Presley, not Fallon), contains a list of distractions that become increasingly less superficial - from 'Tony Hawk's Skateboard' and 'black Mercedes Benz' to a 'fake fair-weather friend and another psychotic girlfriend' - all answered with the defiant refrain of 'ain't gonna slow me down now'.
Followed up with 'Disco Devil Forever', containing a rolling narrative set against minimal guitar work, and only broken up by a brilliantly huge chorus, 'Dealin' Decks' offers several moments of excellence.
The EP finishes off with 'Dionysus Child' - Dionysus being the God of wine and fertility for all those unfamiliar with Greek mythology out there. Entirely acoustic, mellow and almost melancholic, the lyrics lend themselves to a drug-infused memory, an unspoken ode of love destined for a fellow tripper - 'You look so peaceful inside, I want to swim in your eyes.' It's a powerful, emotional, perfect end.
'Dealin' Decks' contains six tracks of fantastic stoner rock, regularly offering something different, but ultimately leaving you wanting more. Which will perfectly build up anticipation for their second album, due out in the spring on Small Stone.