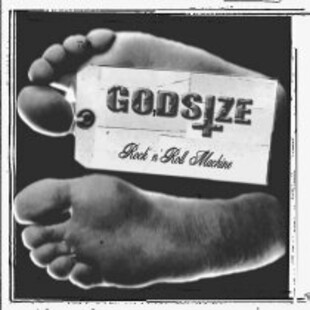 Birmingham's Godsize have been around for a little while now, and Rock 'n' Roll Machine is their latest demo release. Ploughing the sludge line, with Iron Monkey and Raging Speedhorn being the obvious two probable influences, the sound is a familiar one from the current UK underground. Godsize will not win any innovation awards. Yet any negativity stops there, because despite this, to put it simply, Rock 'n' Roll Machine fucking rocks.
What makes this EP so enjoyable is that Godsize appear to have a total command of the key elements of the style. The changes in speed - from full-on grind assaults to snail's pace riff heavy passages are an example of this, and the variety helps maintain interest throughout the five tracks on offer.
Added to this the tangible energy and feeling of urgency put into their songs (something anyone who has witnessed Godsize live can fully attest to), and you have a thoroughly entertaining demo. Top that off with a crisp production job from Migg Kenny (of Mistress and Anaal Nathrakh) at his Necrodeath studios and you've got a must-have release for any fan of sludge rock.