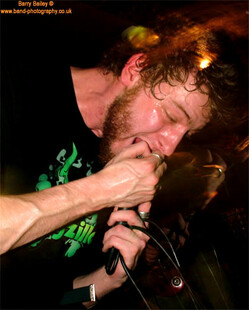 What we have here is a real Bonfire Night treat for us good Sheffield metalheads - eleven up and coming bands for the measly entrance fee of £4. While the quality varies across the night, the enthusiasm and the organisation can only be applauded.
Most of the bands can fit generally into the grind or metalcore genres, but there is one band that we've come here tonight especially to see, who stands out from the pack - Sheffield's The Mirimar Disaster. You can count the number of gigs they've played before this on one hand, yet there is already a buzz around them, and their tightness in the live setting is impressive given their relative inexperience together.
Despite operating in a very popular field at the moment - the fusion of modern extreme metal and post/metal/hardcore sounds - The Mirimar Disaster display enough edge to really excite. With some bands playing similar music, the influences are all to easy to spot - heavy riffing and militaristic drumming to begin, followed by long drawn out passages, and ending with twiddly guitar weirdness - that's Mastodon, Isis and Dillinger Escape Plan then.
While The Mirimar Disaster will readily accept the same influences effect their own work, they manage to melt them together seamlessly, throw in other wider ranging influences, from hardcore to sludge and stoner, and create an original recipe that is highly enjoyable from start to finish.
Link: <a href=http://www.themirimardisaster.com target=_blank>www.themirimardisaster.com</a>
Photos by Barry Bailey. <a href=http://www.band-photography.co.uk/ target=_blank>www.band-photography.co.uk</a>. Used with permission.