DEAD BY DAWN
An interesting start to a varied day, Dead By Dawn come onstage to a reasonably full room, where they lack in confidence between songs they make up with their all-out attack, hardcore-like chugging riffs and a talented vocalist make this a good start to the day, however there was nothing new in what Dead by Dawn were trying, look into any city or towns local scenes and you will find a Dead by Dawn, but I'm not here to just point out faults, Dead by Dawn really do have the start of something special, if they can lose the confidence problems between songs, (i.e. responding weakly to hecklers) then they'll be sorted. Minor setbacks due to a bass string breaking in their second song and the fact the room was too bright at about 4pm didn't help either. Ones to watch, to be honest.
EULESIS
Picture two history students with long hair, yeah, that's imaginable... but give them guitars, the Sunn 0))) back catalogues and the odd death metal release and here you have Eulesis. From the very start the bass sound hit you as you stood there, the long drawn-out riffs harking Electric Wizard on ketamine. This is sadly where they were let down, although the riffs were gargantuan and the vocals decidedly brutal (if a little sparse) you could not escape the fact that the songs made little progression, and when they did, were simply tacked together with long periods of feedback. Great if you like wallowing in feedback and sheer rumbles (I do), not so great if you came to watch an exciting band. With a little work this band could be excellent, as they are they are simply adequate.
THRONE
Since I first saw Throne back in April 2003, a lot has changed for the band. A change of guitarist and a move to a heavier sound - evolving from sub Fu Manchu-isms to a Charger style full on assault - has been a good move for the Sleaford slackers. Having amassed a fair amount of gigging experience over the last few months, Throne appear more self-assured and the result is a noticeably confident stage presence.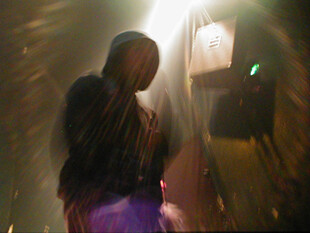 Bare footed and hooded, front man Mike's guttural roar is imposing, while the rest of the band thrash wildly behind, with enough hints at originality to survive in what is fast becoming an overcrowded scene. With a toilet tour of England, with Mfkzt, to come at the end of March, Throne are definitely a growing force to be reckoned with.
CRAWL BACK IN
With the advent of Isis and Pelican, two tremendous releases of last year, it wasn't going to be long before Crawl Back In were compared to them, but where the Americans deal in systematic drawls of riffs that pour out of the speakers like tar and honey, Crawl Back In simply go for the jugular, having almost punk-like riffs within their mainly instrumental style. The vocals, when committed to the mic are fantastic, and the whole band look every bit the top-notch musicians they truly are. A recent tour with Mistress has obviously given them a taste for live shows and the way all the members bob and headbang in a chaotic union is great to watch. Look out for this band, as you'll kick yourself if you miss them.
GU MEDICINE
This band look and sound like they should hail from some American backwater, marry their cousins and drink moonshine, but when they speak between songs, what comes out is a broad Yorkshire accent, surprising to say the least but they are impressive. Bluesy and rocking at the same time is no mean feat, just ask Clutch, who struggled to find the balance until their later albums, but GU Medicine seem to have it all worked out already, pausing only to tell us they have a Radio 1 session on Mary-Ann Hobbes' show they have a rip-roaring stage presence made better by the crowd who go seven shades of mental. Currently residing in the Undergroove label, it won't be long until some A&R man takes them away. Different than the rest of the day's heavier bands, but a welcome surprise.
APED BI SAPIEN
Touted as the "British Isis", Aped Bi Sapien prove on their own terms they are so much more, also Undergroove material (of which they are suited) they take no prisoners as their complex arrangements hit the Old Angel's appreciative audience. For a three-piece they make an amazing noise, the singer and guitarist a maelstrom of movement and complex finger tapping. The odd stretched chords he plays are beautiful, complimented by the bass players high-ended style, the vocals, equally are reminiscent of Neurosis recordings like Locust Star where two voices are used to great and haunting effect. This band know they are good and keep themselves to themselves, an absolute joy to watch.
HELVIS
How drunk can you be on a stage several feet high? Not very, as Bloody Kev, loud and proud screamer for Helvis proves, by falling off several times and rolling in the shards if a smashed pint glass. Helvis are apparently like this every gig I'm told, drunk, messy and bloody amazing. Every song they play has a rousing hardcore singing line to it, the highlight being 'Fifteen Sticks', where Kev manages to fall off, and end up back on stage without his feet touching the floor, with a little help from the crowd. Taking the monitor and slamming it isn't the best way to make friends with a venue, but I doubt they care, slamming all over the small Angel stage like it was their last performance. Undeniably sludge with a hardcore vein, Helvis fucking rule, best band of the day.
MY WAR
The band with perhaps the biggest crowd of the day are local sludge/hardcore roughnecks My War, the two vocalists commanding the stage like some evil playground and the crowd lapping it up, screaming every hate-filled diatribe back at the obviously pleased 8ch, who nods and grins like a loon throughout the set. The bass playing of scene veteran Marvin underpins the faster approach to sludge and the guitarists are so tight they don't even need to look at anyone else. The contrast between the happy looking vocalists and the dismal looking guitarist was odd, but worked nonetheless, the other dread-haired guitarist thrashed away without even looking up and managed to still create an air of tension in the room. Set highlight '100 Fighting Dogs' whipped the crowd to submission and, with nary a thank you, My War were gone, fantastic.
3 STAGES OF PAIN
With a new bassist in tow, 3 Stages took to the stage with a renewed vigour, having seen them throwing the same moves for several shows, this was like watching a band back to what they do best, pleasing audiences with their unique brand of hardcore / metal / sludge attacks. Vocalist Shelf prowls the small stage like a man possessed and the rest of the band move almost constantly throughout the high-energy set, drawing on a lot of new material they never looked better. The audience by now are beered up and ready to dance to anything, encouraged by Shelf they slam against each other like their lives depended on it. Great to see such a talented local band releasing their true potential, look out for their new release soon, they are currently tied up in the studio in Sheffield.
JOHN HOLMES
With a thinning crowd due to Charger not playing the day as planned, scary as fuck hardcore/punk bastards John Holmes take to the stage and pummel what's left in the (by now) tired audience. Bassist Gords stares like a man possessed at the audience with a cigar in his mouth and a Black Flag shirt on, while vocalist Bri, does his usual stooped preaching pose as they rattle out their uplifting and violent take on hardcore and punk. With songs that rarely last over two or three minutes, John Holmes keep up the pace and interest to their last song, the sparse crowd showing as much enjoyment as the rest who have already left. A fine end to a really varied day, despite all the cancellations (Bumsnogger and Charger) Everything Went Heavier was a great fest that leaves the years coming all-dayers something big to live up to.
Reviews by Miguel Cerveza, except for 'Throne' by Pete