Hey Colossus are fast growing a reputation due to their manic live performances and uncompromising music. Coming together after playing in several bands from the UK underground hardcore scene, the individual members of Hey Colossus responded to an email from Joe (bass) asking for people willing to pursue the mission of creating "subterranean rumblings of sludgy rock. Using three guitars." A fine ambition indeed, and warrant enough to attract the attention of ninehertz - we got in touch with James and Ian from the band.
James: "The inspiration was Melvins, Black Flag and Black Sabbath, and other influences including bands like Can, Beefheart, Isis and Neurosis. We rehearsed for about a month and immediately set about molesting audiences all over the UK."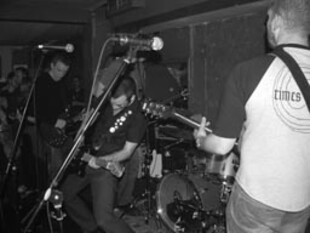 James, guitarist and part time singer, used to play in a post-hardcore band called Yeast, who released an album through Household Name. Ian also plays guitar, and was the singer/guitarist in "Dinosaur Jr. copyists" Econoline.
The aforementioned Joe, and guitarist Bob graduated from Stanton, who were witnessed lived by James and described as "good, although they looked unwashed so I vowed never to be in a band with them." Hey Colossus are completed by Tim, drummer and ex-member of I'm Being Good - described as a "krautrock obsessed imp now working as a pimp" by James.
So, is the resulting chaos of sound indicative of the mix of influences ingrained in each member of Hey Colossus?
James: "Yes, our influences are varied, and sometimes that means we do have little bitch-fights in rehearsals, but in the end we end up breaking it all down to something simple, and building it up from there. We are quite lucky because we can kind of build stuff from basic elements but as we have so much going on in terms of instruments we can put our personality into it as we go, as opposed to playing giant dive-bombing solos as we go. We have just been discussing what kind of direction we are going in after the album, which may turn out to be the heaviest thing we do, which is all quite interesting."
The effect is evident on Hey Colossus' adaptability in the live setting - shown by shows with a varied range of bands - from Mistress, Among the Missing and Todd to Future Ex-Wife and The Murder of Rosa Luxembourg to Oneida and Taint...
Ian: "Yeah, I'd like to think that we could play with all sorts of bands and fit in. I'm hoping we get to play with some more free/psych bands as well, like Sunburned Hand of the Man, Acid Mothers Temple, and more prog noise stuff like Guapo, etc. There's certainly a common thread of bands we all dig, like 80's US indie rock/hardcore DC stuff, Black Sabbath, even 80's thrash - just recently Joe and I managed to persuade James that Among the Living by Anthrax rules (which it does!) - but there's a lot more that we disagree on, and I think that's healthy. If you all agree on everything in a band then no one has to try and accommodate any new ideas and that tends to lead to boring music and a boring band I think. We're actually moving more towards a real blend of influences in the new stuff we're working on, still massive and heavy as fuck but attempting to blend in all the other things we listen to from Beefheart, Boredoms, Double Leopards, AC/ DC, God, Killing Joke, Boris, Need New Body and Fred Neil - could be tough but we're hopeful!"
They released their debut full length - Hey Colossus Hates You (unfortunately now sold out) through Jonson Family records, which Bob and Joe are both involved in, as well as contributed to two 7"s. The first of these, with The Lords, is available on brown vinyl through Theory of Nothing (email address at the bottom of this page).
Next up was a split with The Phil Collins 3, due out anytime now on Victory Garden Records. We got in touch with Nick from The Phil Collins 3. Explaining that they were offered the split while at a Wesley Willis tribute show, he describes Hey Colossus as "great" and his own band as "loose, catchy, erratic, sub 2 minute primary school angst - is the best description we could think of. Even a German found us funny." Check them out via the website links below.
They have two release soon to appear - one, an unlikely split 10" with Japanese sludge band Dot(.), who, from first glances at their website alone, appear to be extremely cool.
James: "Joe has been communicating with Dot(.) over recent months in his capacity as a record label mogul and so the idea came up. Really looking forward to this (mid 2005 at the latest we hope), we have one long (12 minute) hypnotic thing called "High and I" we recorded for the album sessions, and I imagine Dot(.) (who seem to like breasts a lot) will be contributing some more miserable doom. Yay!"
Ian: "For the split with Dot(.) we recorded a 12 minute improvised track and it sounds mighty. We're probably going to do a massive dub mix of it too at some point (why not). There's also a collaboration with Southend jazz noise crew Woe, very much in the planning stages but we're hoping to just set both bands up and jam and get some kind of heavy ass version of "In a Silent Way" by Miles Davis going on. Then we may release a CD with all our vinyl only and comp' stuff on it and, if we've managed to write anything record a new album in the summer!"
Hey Colossus definitely appear to extol the indie/hardcore/DIY ethic. From releasing records on independent underground labels to praising the virtues of many an unknown band, Hey Colossus have experienced the benefits and downfalls of such a stance, as well as being in a great position to inform of us great bands that otherwise maybe unheard.
Ian: "A great band from Ireland called the Killing Spree, harsh as fuck three piece from Belfast, very Big Black style guitar coupled with Minute Men-ish structures very nice, played with them recently, and a band from Brighton, ex-Cat On Form, called Blood Red Shoes. Taint I like, though they've been around for ages, very heavy three piece from Cardiff, Woe as well from Southend are great self releasing abstract noise/spazz heaviness. Also bands up in Nottingham like Lords, Spin Spin the Dogs, Saint Joan, all very nice, doing lots of different stuff. Bob and Joe's label is consistently putting out great and very interesting stuff like Charlottefield, Cove, and this band Reigns who are very nice, instrumental/sample based piano and guitar stuff, they remind of some of Hood's music but with less vocals. One band that I hope will sort something out and record and gig a bit more is Metal Gear Solid Madonnas which is two of the dudes from the X-Rays playing really ripping rock 'n' roll but heavy, very much like the best Kyuss stuff but even heavier! I also like Phil Collins 3 from Brighton we were pleased to share wax with them, and at the moment, though particularly in our sort neck of the woods, there's a real glut of overly serious math rock horseshit, far too many bands with long names making bad prog rock/Don Caballero tributes. It's making playing and going to DIY gigs in a right fucking chore."
James: "We are all born-and-bred devotees of the DIY ethic, and I imagine Bob and Joe would say that oddly things are easier on DIY - you don't have to wait two years for your record to come out, and you can sell it easier at shows etc. It just makes sense for a band like us. Yes we want to carry on as is I'd say, unless we get offered something very much better that allows us to do what we want - and free rocks of dope or whatever the youth of today is doing. It's really important to acknowledge help from those around you I think, because people don't get much if any financial gain out of all this, and recognition via websites etc. really means something. Bands wise, on the scum circuit I have quite enjoyed Among the Missing, Cove, Narcosis, Lords and Phil Collins 3 recently. Those last two were not biased honestly, although I have to declare an interest. Woe are the best kept secret in jazz-sludge-noise."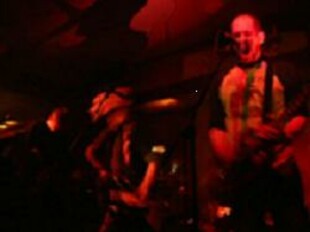 2005 will also see the release of their second album, imaginatively titled Hey Colossus II, around March, again on Jonson Family records. Containing six tracks and described as ranging from "two minute Motorhead style rockers to massive epics", the album even has the possibility of US distribution.
James "I don't want to give away too much about the album, would rather let it smack people in the face (in a soothing drudge kind of way) but let's say it's varied ­ long, short, loose, tight, heavy, psychedelic and groovy in places. I just hope people enjoy it as much as we did making it. It was recorded by a guy who calls himself Place Position in AC/DC's London rehearsal space (actually a massive studio), just before it got bulldozed earlier this year. We managed to blag the recording space free as Tim knew people who ran it, and so we could employ Place Position's guerrilla-style mobile 'set up and record' method. This entails him nailing together three eight-tracks to make enough to capture the magic, however it also led to a raft of technical nightmares later on. But let's not fret, it's all in one piece now! We recorded basically live, like an absolute rumbling juggernaut, but we think the sound captures that plus the rocking-ness we need. We overdubbed vocals and just a couple of guitars and keyboard, but mostly what you hear is what happened in the room.
"We did a gig at the Swan in Tottenham for Simon who runs Wakusei Records in the US when he was still in London, that's how we got chatting about doing something I believe - it's absolutely fantastic he's putting it out on vinyl in the States - it should be some garish colour, maybe transparent red."
Ian: "Simon from Wakusei has recently moved back to the UK, but we're hoping we can get it distro'd over there at any rate. We're going to be gigging a lot (we hope.) We have our own PA now, so if anyone wants us to come and play there house/garden/cave basically anywhere we can make a right fucking racket then get in touch through the website."
And any other plans for Hey Colossus in the coming year?
James: "2005 will see us carpet-bombing venues fairly frequently in the early part of the year - gigs confirmed include Stinking Lizaveta supports in March and an all-dayer at the Tottenham Swan on 29 January. We also might be playing with Planes Mistaken for Stars and Entombed! Can't wait!"
Finally, and it has to be asked... what's with the name?!
James: "I came up with "Colossus" as a kind of blatant statement of intent in terms of describing the hugeness of our sound. Somehow words got added to it so it became "Hey Colossus Let's Wrestle" for about five minutes, but it quickly got shortened again! I think it basically sounds good and describes us a little, while being a bit odd and more laid back than just Colossus - just like us. That might lead us to wear Manowar style furry pants and no-one wants to see that."
Band Websites:
Label Websites:
Label email: