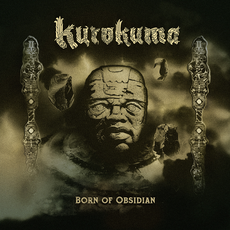 Kurokuma, while one of the most inventive and exciting bands to have emerged from Sheffield in the last decade, have eschewed the pressure to release a debut album as soon as they can. Instead of cramming songs they've written into a mismatched whole, they have instead taken eight (8) years to release their debut and the slow burn has paid off.
First coming to our attention at a KEN Mode show, they were a eye-popping mix of ski goggles, primitive percussion and volume. Since then we've seen their singular vision expand and evolve. Concept records and left-field choices when it comes to formats, labels and even gig locations, Kurokuma are a metal band that seem to actively avoid metal genre tropes. There's no skulls, dragons or dudebro platitudes here, just a trio of highly focused and engaged musicians happening to make some of the most punchy groove-laden metal you could hope to hear.
So after this long, what's contained within their debut? From the opening tones of Smoking Mirror it's clear it's another dank, rich release. Kurokuma have always had an appreciation for the motorik, see their cover of Radioactivity by Kraftwerk for proof, but add in what seems to be a dark, droning undercurrent and you have an impactful opener here.
Second cut Sacrifice To Huitzilopochtli, described elsewhere as Slayer playing at half speed comes across both as ludicrous muscle shirt posturing and a glorious call to arms. Almost a nod to the ridiculous excess of metal itself, it swirls like a fine balloon of brandy, infused with the souls of screaming victims from a Mesoamerican altar.
That atavistic concept runs deep here. Not as obsessive as the likes of Nile, who have built an entire career on Egyptology, but rather a rhythmic, percussive spirit is here, infused into the likes of leading tune Jaguar which paints a ritualistic pattern of subtle fire dances and wooden masks before bursting into a yawning maw of a tune reminiscent of YOB's more twisting efforts. We're talking in letters writ LARGE here folks. The bending, yet repetitive elements of this snaking, gargantuan piece could easily be lifted from an early Sepultura effort too. Many bands have aped the Brazilians' flair for shamanic majesty, few have pulled it off to this level.
Sandford Parker's recording puts the band's brutal metal tone all to the front, but leaves enough room for you to hear every shake of shell and tap of percussion that Kurokuma imbue into their process. Some moments are pure metal maelstrom, see the ripping Ololiqui for proof, but when the blunt edge of riff worship is removed, there's layers to be found, like pulling vines to the side to reveal a devilish grinning face carved in rock on a jungle tomb.
Kurokuma have always intrigued this reviewer in their ability to embrace complex ideas, yet present them as fascinatingly as caveman paintings. At first glance, it's metal, but hang on, deeper things are at play here. That's Kurokuma's identifiable genius and it really spreads its roots fantastically well here.
More bands need to take nearly a decade to release a debut, patience has been Kurokuma's trick and it's been worth the pondering. A natural jump from ideation to execution, this will have you returning to uncover the secrets it holds.
Available direct from the band on CD, cassette and gloriously marbled vinyl, you can grab it here.