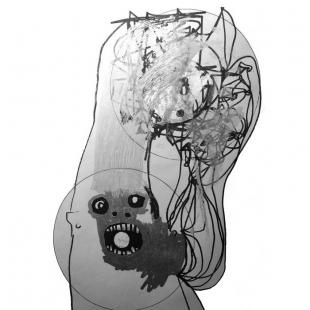 The end of the year which we hoped would be a recovery toward the old ideas of normality, and yet here we are again wondering whether we'll be locked down for Christmas, a populous unsure of the regulations, still tentatively feeling our way back into what little social life available to us if at all.
And yet despite all that, despite conditions inhospitable to creativity and inaccessibility to gigs and practice rooms, 2021 still has delivered with an amazing treasure horde of metal releases. Adversity is often a boon to the creative process I suppose.
Our weekly podcast has been a thrill to curate each week, and difficult too to limit to just 9 new tracks which says everything.
So here we are, our Top 50 albums (or to be more precise releases), a combination of Pete and Mike's favourites.
There's no order other than alphabetical (its difficult enough getting this down to 50), there's no description (we'll record a pod to talk over our top 10 soon) - just a long list of inspiring, spine tingling extreme music perfection.
Aerosol Jesus - Survival
Atvm - Famine, Putrid and Fucking Endless
Bedtimemagic - Between the Sheets
Black Noia - Blacknoia
Blackwater Holylight - Silence/Motion
Bloody Head - The Temple Pillars Dissolve Into The Clouds
Bloody Keep - Bloody Horror
The Body - I've Seen All I Need To See
Body Void - Bury Me Beneath This Rotting Earth
Bongzilla - Weedsconsin
Caina - Take Me Away From All This Death
Cult of Occult - Ruin
Dhyana - Bodhisattva
Dopesmoker - Devil's Bridge
Dvne - Etemen Ænka
Elder Devil - Fragments of Hell
Esoctrilihum - Dy'th Requiem For The Serpent Telepath
Exsul - Allegoresis
Fange - Pantocrator
Fossilization - He Whose Name Was Long Forgotten
Horndal - Lake Drinker
Ivory Primarch - As All Life Burns
Jointhugger - Reaper Season
Lammping - Flashjacks
Mastiff - Leave Me The Ashes Of The Earth
Megalith Levitation - Void Psalms
Noctule - Wretched Abyss
Offerstigen / Obolus - Split
Orphan Donor - Unraveled
Part Chimp - Drool
Serpent Column - Katartisis
Shit the Cow - And Dance
Slave Hands - Ruins Emptiness
Sleep Moscow - Of the Sun
Still - ()
Succumb - XXI
Tenebrae in Perpetuum / Gorrch - Suicido Spirituale
Tenue - Territorios
Throth - Each In Our Own Way We Suffer
Underdark - Our Bodies Burned Bright On Re-entry
Various - Distressing Brain Waves (Butcher Shed Records)
Various - Greatest Shits (Death Treat Records)
Veilburner - Lurkers in the Capsule of Skull
Visions From Beyond - Eternally Bound, Whipped by Time
Wallowing / Thin / Slabdragger / Vixen Maw - 4 Way Split
Warcake - Puce
Wasted Death - Uglier Than Hell
Witchfucker - Bäd Vibez Önly - Aufarbeitung einer Krise
The Wright Valley Trio - Der Weg
Year of No Light - Consolamentum