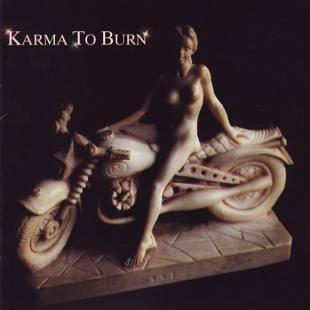 This week has brought the terribly sad news of the passing of William Mecum, guitarist and founding member of Karma to Burn, a band who stubbornly trod their own path from the beginning to the end. Here we revisit their debut self titled masterpiece.
I was in my mid to late teens when I first heard them, on a Kerrang or Metal Hammer cover free CD, the opening song from the forthcoming album - Ma Petit Mort. From first listen you knew this was something special. Metal was in an incredible place around this time, a bold, joyous, inventive period where the shackles of old were being shed, and bands like Sepultura, Machine Head and Fear Factory created a vibrant, modern collective that made this our time. Korn and Deftones had shaken things up further, and whilst the stain of nu-metal was to cut short this era all too soon, those early albums merely broadened the overall boundaries and appeal.
My metal friends and I had found stoner rock by this point, a chance hearing of Fu Manchu grabbing our attention and leading us to Kyuss, Monster Magnet and more. Into this stepped Karma to Burn, inexplicably on the big name Roadrunner label, home of Chaos AD, Burn My Eyes, Bloody Kisses and Demanufacture. It was an odd fit from the start, but there was a sense of anything goes, and the exposure must've catapulted this to places unimaginable otherwise. Having played that compilation CD, we clubbed together and travelled to Manchester to buy the album.
There was a strange mythos around the band from the start. Stories of having recruited a singer merely to get signed, having pulled Jay Jarosz from an institution to perform this role. Rumours of working with John Garcia post-Kyuss split. The artwork, both the cover and within the CD booklet, felt like strange pictures found within creepy, dank antique merchant basements, of oddly warped characters and scenes, set it apart from anything we were used to within metal or stoner rock tropes.
And then the music itself. They were labelled a stoner rock band from the start, in a period when that genre tag had less negative connotations than it does nowadays, but it felt a slightly uncomfortable fit even then, and that was all down to Karma to Burn's uniqueness. The production, the eerie sound that settles over each track, the fantastical lyrics and the vocals which did not fit the Garcia stereotype that so many tried to ape. They were often compared to a band not usually associated with anything closely within our realm, but it does feel right - "a stoner rock Joy Division", through the sombre mood, the Ian Curtis inspired vocal delivery, as well as the cover of 24 Hours midway through.
It is an album of twelve tracks without weakness. It is this above all that makes it so special, why it retains the love to this day. Ma Petit Mort is one of the best songs ever written, an introduction that couldn't be more perfect, displaying the band's talent and soul. The lyrics stand out, tales of death and religion, the opening line of "I look forward to my death" and the classic refrain of "tripping on the fourth of July".
There is a subtlety inherent that is often lost. Take Patty Hearst's Closet Mantra's (those song titles!) gentle drum opening and almost brittle growth as an example. It is a beautiful song, driven by Mecum's skill, incredible at such an early stage. Eight provides an early insight into the band's true desire, and future state - an instrumental song (and the mundane naming structure they would maintain for the rest of their career). At the time (and to be fair, still true now), I felt instrumental music would always feel to be lacking, but Karma to Burn from here onwards were the exception to the rule, and as such the yardstick for all vocal-less stoner rock forever more. When the riff goes off after three minutes, it is a spine tingling and euphoric moment I'll never tire of.
The middle section brings further highlights in Appalachian Woman, their proud links to their West Virginian home ever present, and the Joy Division cover that feels just right. And then there's the two giants of songs towards the end, both with names that felt magical and sleazy, comedic and most of all of another world, to my teenage ears merely by their titles - (Walt Of the) Playboy Pallbearers and Twin Sisters and Half a Bottle of Bourbon. Beyond the titles, either can be used an example that points to the genius of the band. The latter would be on a mixtape of my favourite songs of all time, and would have been had I made one any year since 1997.
And then, they dropped/lost their vocalist and were released by Roadrunner. What would be terminal heartbreaks for many bands seemed to have been done by choice by Karma to Burn. Because they were always true to themselves. Was this self titled a concession - to get signed, to fit in even to a degree - one that sat uneasily with them? If so, it is incredible to have left such a cultural statement with the world under the circumstance. The albums that followed - the likes of Almost Heathen were exceptional, Mecum's riffs beefed up to be the centrepiece, but otherwise retaining the charm and individuality of their debut.
I have so many weird and wonderful memories associated with the band, of the time someone started talking to me as I had a map of West Virginia on the back of my Karma to Burn hoodie - he was a native, studying in Manchester, and we became friends as a result; of the time I cracked my head open accidentally falling during a set of theirs at Roadburn before I wandered the streets of Tilburg concussed, clutching on to my blood soaked Malleus poster of the band; of aggressively being called cocky by a Salford landlord as she pointed at the band name on my tshirt, as if I was wearing as a badge displaying my goodwill reserves; but of course most of all, of the many many phenomenal live sets I was lucky to have been at in various cities in the UK.
I once read a one-line five-star review in one of the big metal magazines of a reissue of Karma to Burn that described it as a black souled masterpiece. It perfectly surmises the lasting appeal, how it is brimming with a strange soulfulness. For whilst it is shrouded in mystique and a dusty darkness, it is bursting with heart and obscure beauty, a uniqueness still never replicated. It is in my opinion one of the greatest albums ever recorded.