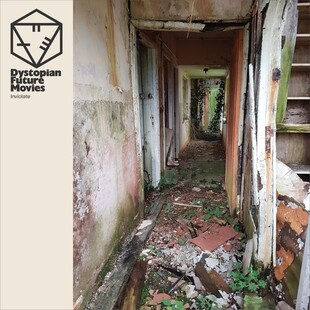 We've all felt it; that sense of vitality triggered by a group of musicians who transcend and dissolve the conspicuous notion of a "band". Whilst the humbling image of a rehearsal room can be comforting, some artists couldn't sound further from such worldly roots. Enter Dystopian Future Movies: a singular, gigantic entity, casting its cavernous echoes into the aether, charged by the reciprocal emotion of an audience ensnared.
With their sophomore effort Inviolate, the evolution of Nottingham's overcast quartet signals the blossoming of a pitch black orchid, yearning for a touch of moonlight. The roots of the music run deep; grounded by the imagery of a derelict Irish tuberculosis sanatorium, the group's haunted essence begins to disperse.
The seemingly unknowable entity begins to take form as Bill Fisher's thoughtful, textural beats cast their first shadows; packed with character and consideration, he possesses an almost mystical ability to shape a piece with percussive motifs, manipulating the meter of the group with subtle but deft acuity. Wreckage is electrified by its shifting counterpoint, as dissonant bass lines slither between his seemingly elusive rhythmic patterns.
As sharper edges begin to emerge, they are shrouded by the veil of Caroline Cawley's ethereal voice and guitar, which she offers as outstretched hands in the gloom. Her conviction is tangible and forthright considering the vulnerability and nuance of her delivery; from the harmonies in Countenance to the authority of Black-Cloaked, her vocals shine whilst her lyrics, often overcome with loss or remorse, are presented with courage and hope.
Complementing the spirit of this untamed entity are newcomers Rafe Dunn and Oisín O'Doherty. Feral washes of guitar provide a living, shimmering foundation for dynamic tracks such as Ten Years, balancing angularity with an almost primal sense of swing, whilst O'Doherty's bass in All the Light ushers an unsettling spirit to thrive on our unease. Our emotional and physical stability is manipulated as the extended phrasing and vast, suspended notes of Rules leave us momentarily weightless, whilst Black-Cloaked clusters around a masterful display of tension and release, hanging on a back-beat so potent the listener wouldn't be blamed for losing their balance completely.
With Inviolate, Dystopian Future Movies have assumed a monstrous corporeal form whilst simultaneously concealing themselves in a cloud of unknowing. We might only be three months in, but the decade has unveiled its first shadowy masterpiece.