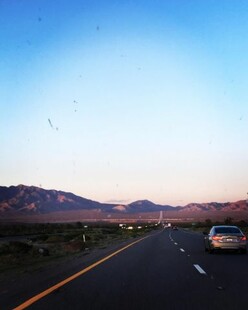 In May this year, 1968 embarked on an American tour, here's what occurred.
Sunday 12th May 2019
This whole thing began at 5am after the earliest wake and bake myself and Bear had ever had.
We were whisked away to Manchester airport by Becca Moore (Bear's long suffering girlfriend) and enjoyed a bit of Hall and Oates, Las Vegas Turnaround, six times on repeat as it happened.
Our first flight was made slightly harder by the Burger King each, three pints of Guinness and double Jameson's with Ginger that we decided were ideal candidates for breakfast. The burger diet started early.
We landed in Newark first where we were getting a connecting flight into Las Vegas, the flight was fucking awful for me as I stayed awake the whole time, Bear on the other hand, out like a light. Mint.
After watching Almost Famous for the fiftieth time, I wasn't too bad when we landed in Newark, the next flight was horrendous, no film, no food, nothing and to make matters worse I was joined by a huge German dude that insisted that he needed to sit next to me and kept falling asleep and nudging me with his massive legs.
1968's flights were separate, so Jimi and Dan flew together and vice versa for me and Bear, this was to avoid any questions at immigration regarding our severe lack of working visas…
1968 - 1
Trump - 0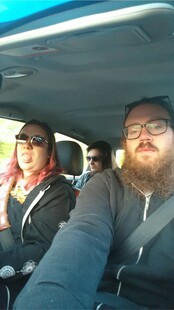 When we landed in Vegas, we went and collected the truck, a fine steed it was too, whilst Bear collected the truck, I was waiting patiently for Jimi and Dan out front of the building when I noticed that there was a plastic tube and pair of JVC headphones on a bench, no one with them. I opened the tube to find a pre-rolled blunt...welcome to Las Vegas…
Once we all got in the truck and realised that we'd all been awake for over 24 hours, we headed for the accommodation then out for food with the free blunt I'd found. Ideal.
Our first stop was McDonalds, naturally, we went to the counter to be grunted at by a lad that looked like Jonah Hill in War Dogs.
He clearly hated us as we were about to order four meals. He therefore got the nickname Boner Hill from me and Dan.
Regardless, we ordered $50 worth of food which basically destroyed us, I mean, I ordered a double quarter pounder with cheese which was basically a half-pounder. I didn't finish it. In fact, no one finished their meals.
Following this, we headed to the nearest dispensary. Upon arrival, the guy on the desk advised that as three of us didn't have passports on us, it would be Bear that was the only one allowed to go in.
I asked if he could go in and come out and tell us of all the wonderful things he'd seen?
Negative. That was a criminal offence. Good to know.
Thing was, Bear was already in so had no idea of this "offence" so out he comes.
"They've got everything! Edibles, kush, indica…"
"BEAR! No! Go back! Go back! It's an offence!"
How we laughed, Bear soon returned with super strong weed…
We headed back to the room with beers from a 7/11 and the greenery. Not long after this, we decided that sleeping was in order having been awake for 28 hours.
Bear and I walked back to our hotel leaving Jimi and Dan to sleep, we were so burned out, I can't even begin to describe that tiredness.
We arrived back at our AirBnb, there were a few sets of keys left under the mat for us, I didn't care at this point, just went straight to a bed that had Sam written on the door. Bear had other ideas and went for another room, after 10 minutes of lying down, I fell asleep only to be woken up by Bear as the owner had returned to find Bear in the wrong bed. Fuckin' A.
I then had to share a bed with him which resulted in me being awake for 28 hours and getting 5 hours sleep back.
His snoring could be used as a torture method in some countries.
Monday 13th May
Today was the day that we needed to sort out a few things, mainly that the gear we posted via UPS had arrived safely at the promoters place. We messed around drinking coffee and smoking cigarettes whilst ordering posters and calling UPS for updates.
Meanwhile, Jimi was busying himself.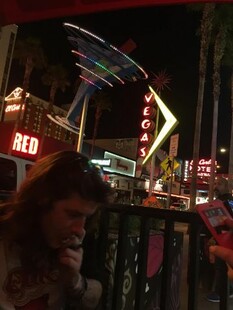 We then headed to Denny's diner for a "Grand-slam Breakfast" which was a poor Full English if you ask me. Baked beans, where art thou?
Jimi scored nicely at Denny's however...
It eventually turned out that the parcels needed the promoter there to sign for them, which was a ball ache to say the least, what was worse was that UPS wouldn't take cash from us or card. It had to be a money order, so back to the 7/11 to buy that.
We collected the gear and merch we'd ordered out there and found the first casualty, my beloved guitar strap had gone missing. Thanks UPS.
We headed to Sam Ash for a new strap for me and then to the rehearsal room to check merch and gear, everything had seemingly survived and made it, all went well until I plugged my pedal board in and my Voodoo Lab power supply wouldn't work. It needed a 110V supply, class. They make two models of this, Euro (mine) and USA…(needed).
Regardless, I blagged my way through with batteries for rehearsal.
That night, we headed out with the promoter to a burger joint in vegas, Jimi decided on a suicide burger, which totally screwed him and all of us up when we tried it, hotter than hell.
Tuesday 14th May
So, today we left Las Vegas to head to California to play the first of three shows, this whole thing came about after we were asked to play Vegas, then came Whisky-A-Go-Go then another Californian show. I'm still not sure how we ended up here but there you go.
The scenery through the desert was absolutely unreal.
We headed to our accommodation where I quickly shotgunned a bed with Jimi to avoid Bear and Dan's olympic grade snoring.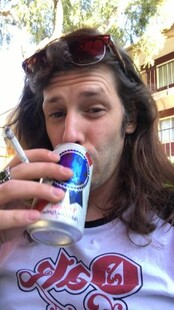 Once we'd settled in and got our bearings, we headed into LA to eat and drink. We arrived at an absolutely bitchin burrito place, this was now our favourite food place in America.
Much better service and food compared to pretty much all the places we had been to in Vegas.
After demolishing food and Coronas we headed to the Whisky to catch a Chris Cornell tribute night, which was essentially a bunch of local musicians covering Soundgarden stuff.
Jimi kindly offered to buy the first round, which we duly accepted. The round was then split into two parts as each Coors Light beer cost an eye-watering $9. Needless to say these were drunk slowly.
Whilst waiting for the acts to come on and massacre Soundgarden numbers, we were approached by two middle aged women that proceeded to tell us about how she got kicked out of rehab. Welcome to LA indeed. She did numerous impressions of English people to us, of which we were obviously pleased to hear.
We watched one song that the band played and then left for economical reasons, the band did a false start on My Wave so we were gone.
Up the road we went; on to the Rainbow to drink Lemmy's. When in Rome etc.
It was here that Dan forgot how to do rounds of drinks and the games were slowed down considerably. You can even see the confusion on his face after we'd explained it to him.
We scored some Heineken's and checked the spot where River Phoenix OD'd by the Viper Room then headed back, I opened the driver's door for the Uber and the look on his face was priceless, he was ready to get car-jacked, I apologised and got in the back.
Wednesday 15th May
We all woke up in a fairly dazed state and Jimi attempted to make us breakfast which wasn't bad at all.
Following our breakfast, we headed to Guitar Centre in Hollywood to sort my stupid fucking pedalboard out, I used the tech bench at the back and sorted it with a cheap pedalboard power supply.
We tried to check out the vintage showroom today but couldn't get in as the Game Of Thrones creator was in there having photos taken of special Custom Shop Fenders that had been made for the show/name, whatever, don't get the show, guitars seem pointless for it if you ask me.
We drove from here through Beverly Hills and saw some houses that were just outrageous.
Tonight was the first show in Tarzana, California, we loaded in and set up then had a pint of IPA.
We were booked in Vegas with other bands who played all the same shows as us and we arranged a gear share with them, Monsternaut are from Finland and split the gear rental with us. Rad dudes, they killed it in Cali.
We also met Lords of Illusion here, these kids were literally banging out pure Sabbath in California. Righteous dudes.
Round the corner from the venue was Norm's Rare Guitars and a record store, naturally we headed there and drooled.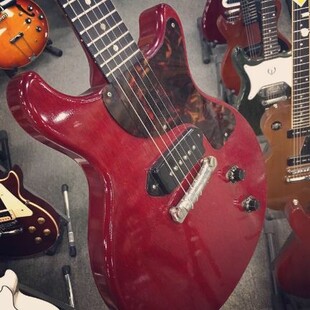 I found a Les Paul Junior from 1959 that was unreal, it was a mere $8,000 too. Whilst gazing in amazement, we met Jason Sheff from the band Chicago, he was with Norm just talking. Madness.
We went back to the venue and met up with Shane Beck who is a fan that tracked us since Ballads came out. Shane is dedicating his life to keeping the memory of his late wife alive. They were both avid music fans and he gets his favourite bands to sign dedications to her and him. A lot of love for him, we had some food with him and then headed off to find a dispensary.
Jimi found one and proceeded to guide us round the block in a full circle, just excellent.
The dispensary we found had a bookshelf that opened much like a secret door to in a spy film or something.
We played OK considering the persistent gear trouble I was having regardless of "fixing" it at Guitar Center.
We managed to meet up with Kirsten and Vinnie who were on holiday in the States and drove out to us.
We also met, Mr. D who entered a drum competition and apparently lost due to being too old. Go figure. Mr. D. also wanted free merch from us at the show but we politely refused.
I was also asked for a cigarette outside this gig by a large black man, I offered the guy one of my Marlboro Menthol NXT cigarettes and he took it,
"It's menthol, I hope that's OK? I'm European" in my finest Hugh Grant impersonation
"It's OK, I'm American, and I'm black" he replied.
Is that funny?
We both laughed hard regardless.
Later, we headed back to the apartment and basically burned out, this was the beginning of Bear's back problems.
Thursday 16th May
He had experienced issues when we were in London the weeks' before and now they had ramped up considerably.
Today we had to go back to Hollywood Guitar Centre again. My pedalboard was dismantled and I picked up a uni-vibe pedal to replace the rotary speaker pedal that for some reason wouldn't work at rehearsal.
We received a message from a French photographer called Matthias, offering to shoot us live at the Whisky which, we took him up on. We met him prior to the show and gave him a ticket.
So, the Game Of Thrones guy had gone this time so me and Bear tried out a bunch of gear in the vintage showroom. We probably played gear worth approximately £100k. We left with a plectrum each.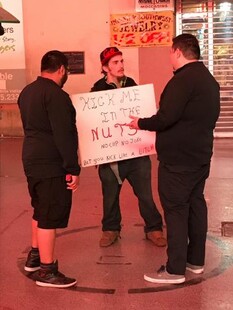 We decided the best thing for us to do was to have another one of those burritos then head to Whisky-A-Go-Go ahead of the evening's show.
At the Whisky, we loaded our gear in and met the crew.
We waited for Monsternaut to arrive. After they arrived, they soundchecked.
The trouble we had with this date was despite being asked to play by the Whisky, they had some sort of grave admin error and tried to move us to a different month, having paid a deposit for tickets to sell, we refused to move it.
The result was us, Monsternaut and a bunch of rap/hip hop groups which was a good mix. The headliner however was this nonsense "artist" who arrived late, played for 15 minutes then left with his "hype man".
Get a grip Riff Raff, your "music" is a fucking abortion of sound.
Regardless, Monsternaut decided to plug the rental Marshall into the wrong input on the cabs onstage, therefore, no sound came out. I had to be tech support and with our strict stage time constraints, had no time to figure it out.
By this time, Jimi and I were stood outside the Whisky and were robbed of about 4 cigarettes by various passersby and homeless folk. One lady came past with her life in a shopping trolley and saluted the police when drove passed us as she spoke.
We all make choices in life, good and bad. A prime example was this, was this woman.
Back inside, we explored the legendary venue, upstairs, back room, green rooms etc, it's all there.
Around this time, Bear decided to head to a chiropractor as his back had got a lot worse.
He was charged $200 to be told his back was screwed. Sound.
Monsternaut kicked off the night by opening and had to use the Blackstar HT100 instead of the, what we thought was fucked, Marshall. As did we.
We began to panic as Bear hadn't returned from his appointment and that we were in danger of pulling the show.
The venue began to fill up with a mixed crowd and we figured we'd best sell some of the tickets.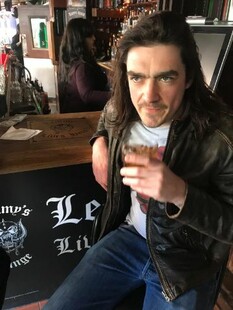 We headed up the road to The Rainbow again and bought some Lemmy's. I sat in Lemmy's seat which was pretty weird to be honest. I felt like I was sat on the master's throne, I soon got up.
Here we got chatting to Jason Casanova of Sasquatch and Brant Bjork's tour manager Banana. Sasquatch were playing the Vegas festival also These dudes were fucking class. Bought us drinks and bought tickets after we explained why we were there.
As time went on, we were running out of time so began practically handing tickets to anyone that was free. One such guy was Dave Hillis who I had no idea of who he was, gladly bought two tickets and attended the show.
Turns out, he was an engineer on Pearl Jam's Ten record. He dug our show from what I gathered afterwards.
We'd arranged the show to be recorded by the Whisky (at cost, naturally) so we had that set up by a dude called Tony.
The staff at the Whisky were relatively cool, unfortunately they forced us to pay for the tickets we'd not sold before we played, like we were going to run away with all our gear, calm down America.
With minutes before we were due to play, the promoter, Doc Gunn came and grabbed me and told me to follow him.
We went upstairs to the main office of the Whisky where he pulled out a bottle of single malt scotch and a hash pipe and we shared both.
I would safely say that this is one of the highlights of my musical life. Bar none.
Back down in the venue, we went on.
The whole thing was recorded, listen to it, I'm not in the business of a self-review.
One point I will make is that the guitarist from Monsternaut stole my fucking beer as we started, one hero in the crowd saw this and replaced it. He would later go on to shout "FUCK YEAH!" throughout the set. Again, this is on the record. A lot.
We finished a relatively flawless set and Bear went off to do merch whilst we packed everything down in record time and cleared the stage. The barmaid from the Whisky bought a shirt which was nice, for a dollar less than a beer.
I stacked everything by the door and went for a smoke with Barbra who'd done our lights for the evening, they were badass as was she.
Whilst chatting to her, a short guy from the Whisky came up to me demanding that I take our gear out of the venue as the next act was about to go on. For perspective, our gear was stacked by the side of the stage, away from everyone.
Firstly, this little piss-pot hadn't said anything to me the whole night, only routinely frisked me and Jimi when we went for a smoke during the evening. So, this didn't sit well with me.
"Why?" I asked.
"Because you need to move your stuff, now"
"Aye, you said that earlier, but why?"
"Because I need to close this door and you need to move your stuff"
"So, you want me to move a flight-cased Ampeg SVT, Marshall head, cased drum breakables, cymbals, bass, guitar and pedalboards on my own, onto the street with no truck to load into? Not 5 minutes after we'd just played? What are you going to do when this act finishes?"
"I'll open the door again" he stammered.
"Right, well when that happens, I'll load out then, this act has a laptop it's no hardship"
"You can't, you have to load out now!"
"No, it's not happening. Fuck off."
And with that, he huffed and puffed and left. No wonder America has power issues.
Following this, we stuck to our plan, loaded out when required and Bear and Jimi took the truck back to the accommodation.
Now, this is where the night got halted.
Young Daniel decided that his leather jacket was best left in the truck, his jacket also contained his ID.
So, me, Dan and Anja had to wait for about an hour on the strip as Dan wasn't allowed back in the Rainbow. Class.
Anja is a beautiful soul who had seen us the weeks prior at DesertFest London and decided to take a trip to Vegas and California to see the sights, it just so happened that we were at the Whisky and so was she.
We went back in and collected the files from the recordings and enjoyed a $6 coca cola each.
She was also lumbered with Dan and his lack of ID problems.
Anyway, Jimi returned as Bear's back had gotten worse so he went for a rest and tapped out of the night.
We all piled into the Rainbow again and debauchery ensued.
More Lemmys, more chatting with locals, Doc turned up too and took us to the lair of the Hollywood Vampires, which is where Alice Cooper and Keith Moon used to hang out. It's like a little treehouse in the attic of the Rainbow. It was fucking cool.
We then met Ron Jeremy. He was completely fucked, couldn't really talk. Still, one for the memories.
Dan got us home with an "Uber" and we all smoked a massive joint that spelled curtains for us all.
Friday 17th May
The next afternoon, we all clambered out of the apartment to discover that in the evening's festivities, Jimi had left his debit card at the Rainbow.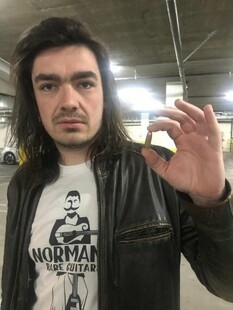 So, we headed to the truck to find that someone had eerily left a fresh 9mm bullet on our truck. Probably that short arse from the Whisky. Fuck him.
We headed back to the Rainbow and got some much needed food and to use their sole bathroom.
Matthias came to meet us too and take some shots of us on the strip, again, the results of this are in the live album book.
After this, we headed to Hollywood Forever where Anja told us Chris Cornell was buried as she'd been the day before.
We drove there and checked out a bunch of Jewish graves, didn't find Chris, so fucked it off.
Following this, we drove back to Vegas for the last show.
The drive was quiet and none-eventful due to bullshit back home.
We arrived back in Vegas and crashed out at a cheap motel.
Me and bear went for a crappy burger across the road then slept and slept well.
Saturday 18th May
After a dreadful sleep, we woke up to Dan's birthday!
We headed out to a shopping centre and scored violently American items for him and had an In and Out Burger. Which was absolutely fucking fantastic.
From here we headed back to the motel and made us of their chilly swimming pool, with beers and joints.
This was also where Jimi told us his real surname, which I won't share. Fuck that.
Bear's back had worsened so we decided the best thing to do was to rub him down, he enjoyed himself getting Jimi's and my magic hands.
We all got ourselves ready for an evening out at the second night of the Planet Desert Rock weekend festival we were closing.
Tonight, we were seeing Red Fang.
We got our Uber and headed into Vegas, we met a bunch of Australians who were keen to see us.
The night was class, we saw and met Red Stone Souls who were absolutely bitchin. Good dudes too. They had the right idea, pure Lizzy and ZZ Top tones from Detroit.
I got to hang with Bryan from Red Fang for a while outside. Bear met his idol also.
Whilst talking to him he asked why were all the way from England, when I explained he asked what sort of stuff we played, in the seconds following my answer, Screaming Sun came on the outdoor tannoy.
I explained that this was us and he said he dug it. Another mad moment.
The night went on and we got more and more destroyed.
I remember watching Red Fang who nailed it then I'm out, we partied. Again.
Sunday 19th May
We checked out of the motel and headed to an I-hop for breakfast.
I can't stress at this point, how bad our guts were after having a strictly American diet. I ordered eggs and bacon with coffee, Jimi and Dan went for "modest" omelettes.
These omelettes were enormous, filled with bacon, cheese, veg and everything. I reckon they would have had five eggs each in these. Anyway, they didn't finish. None of us did.
Outside, Bear spotted a memory stick on the grass which later turned out to have a government application form to build a firearm. 'Murica, fuck yeah!"
We set about driving back into vegas to our new home, The Four Queens hotel off Fremont St. Vegas.
Once we arrived and packed our stuff into the room then bought souvenirs from the gift shop and got ready for our final show at Vamp'd.
I recall me and Dan being sunburned and exhausted here…
We headed over to the venue and made ourselves at home. We had a very pretty barmaid assisting us throughout the night with our bar tab. She was lovely, until the tab ran out. Lol.
Here we were using Dopelord's amps, they kindly let me use their Sunn Model T amp, I paired this with the Marshall to make it as loud as possible.
We also borrowed guitars from Arthur Seay, including the worst Strat I've ever played. It was fucking horrendous, high action, intermittent electrics, worn strings, but thanks all the same.
We played well, got interviewed by a dude that loved the Rolling Stones more than anyone.
I then got chatting to guy about guitars, turned out he really knew his stuff and was unbelievably knowledgeable. I later found out that it was Mike Varney I was talking to, the guy responsible for Yngwie Malmsteen and Paul Gilbert, another mind-blowing event. He was impressed with our set, advising others that we had stolen the show.
We finished, loaded up as the last of the crowd left, we met a woman who saw Mountain in 1969 for $3. Class.
Back at the hotel for our final night, went down Fremont Street to see the madness of the American dream. It was just mental, like Blackpool with more money.
We saw some absolute lunatic offering people to kick him in the balls for money. No need.
I remember very little from this night again. I'm fairly sure we burned out around 1/2am.
Monday 20th May
We were rudely awoken by; a, louder than it needed to be, tannoy announcement advising us that there could be a bomb or a terrorist attack in the hotel.
We all groaned and would have welcomed Isis should they have been able to solve our hangover issues.
We got up and checked out.
Today was the reverse admin day, we needed to pack up gear, return rental stuff and post merch to Ripple Music for distribution.
We completed all admin tasks and treated ourselves to a Chick-Fil-A burger and SALAD! A fucking salad! It was cold, green and had some form of nutrition in it. A worthy shout from Bear.
During the afternoon we headed to wal-mart to get packing material for our guitars and pedals etc.
We had to go to the Vegas sign, as tourists, here we met a drunk Elvis impersonator who charged us $20 for a photo, I called him a nonce as I knew the language barrier well, he thanked me.
The way we planned this was that we would post four items over to avoid getting questioned at US immigration and each carry a piece back on separate flights. It worked.
Dan took my guitar, Jimi took Bear's bass, Bear and I took pedals.
As we had no accommodation booked for the final night we all agreed that we would just head to the airport and wait for around seven hours for our internal flights back to Newark.
We all had a big farewell to 50% of the band at the terminal as Jimi and Dan were flying from the other side of the airport.
Bear and I found a pair of sofas to camp out on.
Around an hour later, Bear pulled a box of super-charged edibles out of his bag and asked if he'd get through with them.
"Absolutely not, I replied, how many have you got left?!"
"7"
These edibles had a warning not to consume more than one a day on them.
We had a matter of hours to sort this.
So, we ate one each, gave it an hour and ate another as it seemingly didn't work.
Then. they worked.
Boy did they work.
Bear became curious as to whether or not, at 2am, uber-eats would work.
He ordered, in chronological order, to test uber-eats capacities…
2 coffees from Starbucks.
1 burrito from an independent chain
1 small fries with a litre of ketchup from McDonalds
1 more burrito with a massive orange soda
With every order, we became hysterical with laughter.
I mean, the driver came all the way to the airport with 99 cents worth of fries and was more than happy to do so, regardless of his $2 fuel bill. U-S-A…
We noticed that we weren't the only ones in the airport by now, there were two other losers in there also.
In the shape of Jimi and Dan, who's flight was cancelled and therefore they were in our terminal. Jimi organised a new one on the airport floor at 2am and got a direct one, which was hours later…
Around this time I made some calls to loved ones back home in the UK morning time. I could barely speak by this point.
We had the last edibles and headed to check in at around 4am.
Hall and Oates' Las Vegas Turnaround also came on in the airport too, a fitting end.
By now, I was literally seeing through time.
I was 3.5 edibles in.
We boarded and flew across the states to Newark then over to England.
On the flight I sat next to an old lady called Peggy who was visiting England for the first time.
She was ace, I scored her drinks and whatever she needed.
I tried to sleep but couldn't, nor could she.
We landed, so did the gear and the rest of the band in one piece.
Was a blast, until next time America!