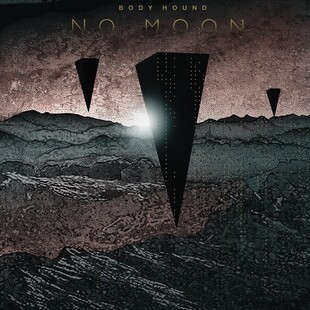 Listening to Body Hound's debut album I find myself questioning the notion of talent. Is it a natural gift for the chosen few? A hard-earned ability gained through rigorous practice? As our voyage of discovery commences, the scene is set by Paul Phillips' ominous, otherworldly artwork. A shimmering, nostalgic arrangement straight from the Berlin School appropriately signals the touchdown of four strange entities and, as the encounter unfolds, the scene quickly escalates from curiosity to credible and immediate threat.
Bristling with the same tangible electricity of Bruford and Holdsworth's early engagements, Spectrum establishes a series of clues to unlocking the musical language these peculiar visitors are speaking. The tonality echoes Stravinsky, Meshuggah and King Crimson, who use extended scales and uncommon modes to displace the balance of the casual listener. Indeed, the blissful bewilderment of a Body Hound mosh pit resonates with the wild, furious panic that occurred when Stravinsky debuted the chaotic harmonies and brash, unpredictable rhythms of The Rite of Spring.
Whilst early EP Rhombus Now boasted memorable hooks and unforgiving transitions, No Moon excels in more successfully cementing its complex fragments. The anarcho-robotic assault of old has received an upgrade and, coupled with Tom Peters' vast production, BHv2.0 resonates in a truly extra-terrestrial musical dialect. Red Stasis acknowledges the frenetic electronica and looming riffs of latter-day Crimson, whilst subtle synths propel some of the record's more grandiose moments into the outer reaches. The central triptych (commencing with Black Palace) evolves over a largely through-composed journey, conjuring the incomprehensible newness of an inter-planetary expedition. Occasionally, a sense of optimism materialises; the semi-acoustic Pillar of Light effectively juxtaposes some truly titanic dissonance.
Through the miasma, guitarist Calvin Rhodes frequently summons a series of paranoid, squawking phrases with unearthly precision. Meanwhile, his seemingly cybernetic counterpart Joseph Nicholson casts a tractor beam over the clattering chaos, consolidating the turbulence with a synthesis of counter-rhythms and bold, striking melodies; Second Bend culminates with twisted single notes, chosen and played with masterful conviction.
Grounding these feral frequencies is Joseph Thorpe, whose commanding tone and brazen technique somehow remain understated in such an exaggerated soundscape. Meanwhile, deeply rooted in polyrhythm, Ryan Bright drums in a hyperactive, textural manner, although his headstrong flair comes not with the mechanical appeal of his contemporaries but a concrete sense of class, clarity, voicing and swing. There is an inherent sense of balance as the group serve to avoid what could be wrongly perceived as a garish display of dexterity and memory.
So, talent; something Body Hound clearly carry in space crafts. But was this visionary music borne from natural ability? Surely it could not exist without an inordinate amount of studious rehearsal? Lo, out of the dark unknown a hopeful possibility emerges: perhaps talent is universal, lying dormant, waiting to be unlocked with the right combination of circumstances. It is abundantly clear that these four musicians have unlocked something within each other, and together they have created an important, distinctive piece of art which is sure to be remembered beyond our earthbound existence.