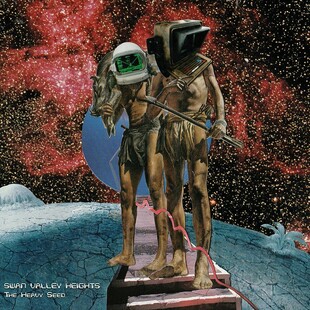 This is a treat. Released on the iconic Fuzzorama label, Germans Swan Valley Heights pull at the strings of your psych stoner heart and beckon you into their world.
The opening title track draws instant Colour Haze comparisons, that delicate touch that hugs you close as you close your eyes and fly away on the gentle psychedelic suggestion of a high summer day. It blows away the dandelion clocks and the pollen with loud, bold fuzz riffs a few minutes through, still on the same template of their compatriots, a pleasantness even in its heaviness. The vocals, eventually in attendance, do offer divergence and as such give unique identity. There's a little of their label masters Truckfighters in the final rock out minute or so.
It continues on Vaporizer Woman, more of the same, and thankfully so. It is transporting, to happy days and picturesque locales, making light of the weights of the world. The guitar playfulness just before a couple minutes through is if anything even more Koglek-alike.
The middle track of the five changes slightly - a gruffer, stubbly opening prickles, before settling into a chilled calm. The song flitters between these two worlds along its eight minutes, a little like in the way Elephant Tree have mastered, but I find this less gratifying than what preceeded and skip a little of the way through the last couple of minutes.
After the relatively brief My First Knife Fight's space and bass combine for a instrumental stoner rock out, the finale of Teeth and Waves returns to the mellow fields. It is a satisying, relaxing stoner rock journey, hints of the chilled elements of And the Circus Leaves Town just noticeable through the space rock adventure and general sense of psych rock contentment.
An album that rises above, this is perfect summer music, stoner rock at its warming and dreamy best.