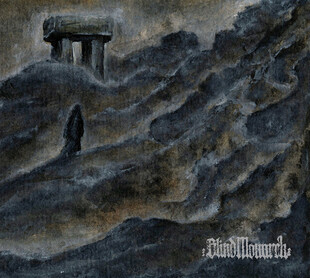 The best things take time, that's how the saying goes. Pray silence please then, for Blind Monarch.
Having gone through line-up changes and a thorough writing process, it has taken this debut release many years to appear. Their demo from before this record looks to have been erased from memory, instead, What Is Imposed Must Be Endured stands proudly in its place.
I've taken a conscious decision not to read other reviews of this, but I can imagine they tread the usual boards of adjectives and influencing artists. To compare this lazily to other bands would be reductive and somewhat of a disservice to Blind Monarch's impact.
Yes, it's slow and displays some formulaic doom tropes. That said, it's delivered in such a tight, considered way that you don't feel like you're simply spinning a dusty doom record from 20 years ago as so often we do here at Ninehertz from other submissions.
The four-piece move at glacial speeds, sure, but they maintain your attention in bursts of creative wonder. Live they have an uncanny knack of drawing you into a groove, only to upend the (rotten) applecart when you least expect it, the sections they flit between are confounding. Here on record it is a similar experience. The opening broadside of Suffering Breathes My Name takes this to new levels, chugging sections stand proud with open chords hung onto until the last possible moment.
The individual elements all coalesce to create a lumbering, but fascinating sound. The drums, courtesy of Lee Knights (ex-The Kevorkian Solution,/Koreisch, current Out Ink/Drawn From Ichor), pound with a textured and varied pattern that help maintain that interest. The interest is the key here. No two moments feel the same as often doom can, instead the process feels like a story being told and slowly expanded upon.
The same must be said of the vocals, growled one moment by vocalist, Tom Blyth one moment, only to be screeched the next. At points, an audible vocal bubbling occurs, not unlike a steaming swamp releasing fetid gas (that's a good thing doom fans).
Fetid is a great word to describe the band's whole sound. You're sure this is dark, and in the case of My Mother, My Cradle, My Tomb quite poignant artistic endeavour is planted with questions of the almighty, nature and philosophy, but it fucking STINKS.
Elsewhere, the title track has a riff that keeps being mutated and is called back to in a way that gives such a hackle-raising, surging feeling as to be offensive.
Recorded in an abandoned church with no electricity in Hull, with leads being fed into the building from outside, this is an astonishing debut. The natural reverb afforded by the setting also add to the dankness. You can almost smell the musty air and feel the damp.
There's even the sound of rain in there, a fantastic nod to Black Sabbath (shit, one band mentioned won't matter) and some haunting clean vocals on closing epic Living Altar that add to this atmospheric release.
This is the sound of a well-developed and rounded debut album if there ever was one and could well be used as a handy benchmark for those hoping to create something truly original. Blind Monarch look set to do great things, be part of their blackened, scorched vision now.