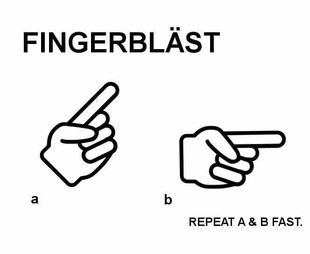 There really isn't much better than live music - the thrill of the riff, of finding a new band previously unknown as support, the rumble of bass felt in your gut, the social outing, the beers with mates, the common ground belonging of likeminded souls (known or unknown) wherever you are in the country, the mandatory perusal of the merch table, the involuntary head nodding, fingerblasting, and/or claw held aloft, the collective intake of breath as the band you love on record elevates above and beyond in the flesh and you experience with your friends and strangers moments of pure, shared joy.
There's been plenty of highs this year in the live setting, so I thought I'd once again compile my list of the top ten sets, in a priority order I'll no doubt argue with myself over shortly after this is published. More than even with record reviews, which are still subjective, live experience will differ massively between everyone, as even matters such as the day you've had, or how you get there can subconsciously affect you overall enjoyment or impression. As such, there'll be other sets within the 86 (yeah, I'm sad and keep a list) I caught this year that will have meant more to others, but that's the way it goes.
10. Mammoth Weed Wizard Bastard, Sheffield Academy, 30th September
That there is now a national corporate doom festival from the organisers who usually specialise in 80s cockrock revival in Welsh holiday parks, speaks volumes about the continued rise of our genre in the country over the last ten years. That is is held in Sheffield should make me feel blessed. However anyone who has the misfortune to catch up with me at the HRH Doom vs Stoner fests will have experienced a whinger, bemoaning the capitalist appropriation of "my" music. I'll not list my complaints here, except to state I'll be giving it a miss from now on.
What I can't deny is that it has given me the chance to see bands I haven't before who have provided something special. Last year it was Bast, this year my debut viewing of Mammoth Weed Wizard Bastard. They were mesmeric - proggy, ethereal, gloomy yet uplifting, all intercut with passages of shuddering heaviness. It was an undeniably superb showcase of modern doom.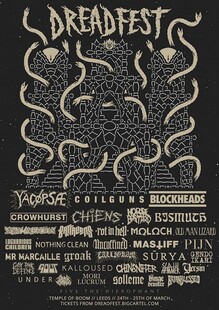 9. Gendo Ikari, Leeds Temple of Boom, 24th March
Dreadfest highlights the opposite end of the scale from HRH - a grimy, value, punk, ethical and in it for the music collective run fest bringing three days of uncompromising grindcore, doom, crust and metal to the brilliant industrial rundown warehouse of Temple of Boom. I went with fellow ninehertz reviewer Mike, and we loved every minute. From the first band onwards we were subjected to an unrelenting barage of noise, the first (if memory serves correctly) being Gendo Ikari. They set the scene, set the mood and provided the spike that barely dropped day long - Scottish grindcore fury with an enigmatic, energetic and exciting live performance to match.
8. Friendship, Sheffield The Harley, 17th September
I've been listening to Friendship for a couple of years now, seen a couple of new albums arrive, them sign to Southern Lord and generally become darker and more derangingly, bludgeoningly heavy. And I never considered that I'd see them, not anytime soon at least. Yet here they were, over from Japan, in a bar a minute away from my work, playing the ugliest powerviolence and sludge hybrid you'll likely suffer. It was intense, it was loud and it was glorious.
7. Blind Monarch, Sheffield Plot 22, 22nd July
Here's an example of what I said at the start - the experience or memory of a gig will always be individual, and not only dependant upon the level of performance of the band(s), such as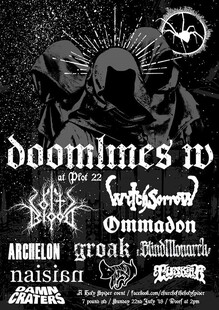 that can be measured. I suspect even Blind Monarch won't look at this set too fondly, disrupted as it was by cut outs and technical issues, in the middle of the day in the claustrophobic pop-up ex-shop venue.
This was Doomlines, an all dayer curated by Holy Spider (promoters of a vast amount of the gigs on this list) as part of the fringe of Tramlines, a Sheffield festival that officially is irrelevant to anyone with non-mainstream musical tastes, but does inspire a city to come out en masse for the weekend, to every pub, club and park for live music away from the main event.
The reason such a blighted set makes my list is that even in these circumstances, the unstoppable rise and attraction of the band was still evident, and if you can love a set like this then there's something about them. Here's a band that will be making waves in 2019. Slow, dirty, ugly and desperate doom... when all the issues were fixed we (all 5 of the ninehertz originators together) rushed back inside the venue for a triumphant return ending.
6. From the Bogs of Aughiska, Sheffield Delicious Clam, 21st August
Being utterly mesmerised and blown away by a band you've barely heard of before is one of the true gig highs, one you can't predict but come around every now and again. Here was another. Four men in shirts, ties and balaclavas, playing Irish folk inspired black metal, replete with backing visuals and samples, this was an intense performance that you couldn't look away from.
5. Bong, Leeds University, 3rd November
A counterpoint to the corporate festivals is the ever endearing Damnation festival - in that this is a large scale operation with big name bands, but somehow curated and created with love and emphasis on the attendees not the profits. This was a doom-lite year, yet it remains a festival to attend for the enjoyment of being there no matter who is on.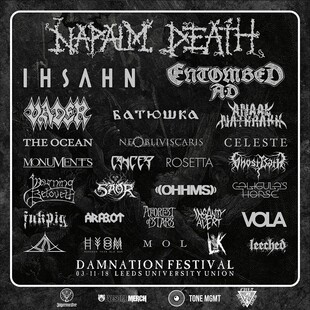 Bong were one of the main bands ringed on my proverbial set time planner, and they did not disappoint. This was drone bliss amplifier worship, I closed my eyes and let the reverberations shake my core. When I opened them, the room had half emptied, off possibly to see the clashing Anaal Nathrakh elsewhere, possibly just droned out as those remaining zoned out once more, of the people around me, the festival, the venue, my surroundings, all but that consistently shaking noise.
4. Bismuth, Sheffield West Street Live, 29th April
The first of two equally breathtaking performances I had the pleasure to catch from Nottingham's Bismuth, this gig pips it as by the second time around I knew what I was in for. Here, supporting Primitive Man, Bismuth laid waste, the band excelling in dragging doom to its extreme so it meets droned out longevity, and pushing and pulling across that border. Everything they did this year - their stupendous album, the crazy split with Legion of Andromeda, and most of all their gigs - was amazing, a band we should all cherish.
3. Kurokuma, Sheffield Record Junkee, 18th May
The feted Monolord in a record shop in my home town, this promised to be exciting. But while the Swedes are growing in popularity, they've plateaued on record, and the were overshadowed by the two local supports, Blind Monarch and Kurokuma at the cliff face of doom exploration and advancement.
This has been some year in the unstoppable momentum of Kurokuma, twelve months where they have truly turned the promise and adventure into output that is evident now way beyond our local scene, whereby the whole country knows their name and the havoc they bring with them. This set was them at their absolute best, magical inputs of heavy psychedelia, a performance that gave everything, that you were so engrossed by you became wrapped up in it. By the big riff closing of Dope Rider Pt. 2, the band were truly going at it, expending whatever they had left. It was an amazing spectacle.
2. Vile Creature, Sheffield The Harley, 29th November
One final heads up Holy Spider who have done so much for Sheffield live doom this year, and before. Here, they managed to fill a short notice cancellation on Canadians Vile Creature's UK tour, thus bringing the providers of one of my albums of the year to a pub not too far from my house on the eve of my birthday. It brought out my friends and is one of those examples of just having a great night and seeing some sublime music performed, when you'd have happily be out for either count.
I bought a tshirt prior and the band came across as so nice, yet musically they are vicious, the two piece drawing out long passages of doom that float skywards, before crashing it down with a mighty heft. They were perfectly magical that night a week or so ago.
1. Wolves in the Throne Room, Sheffield Corporation, 26th June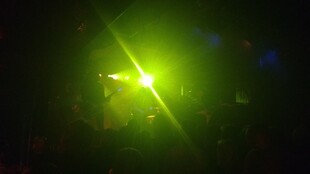 Mid summer, record temperatures, the walk into town through busy parks of barbecues and cans, through shimmering haze, 'cross sticky tarmac. This was not a night to spend inside the dark and dank enclosure of the small room of Corporation. Yet here we all were, shoehorned in, a collective mass of sweat and warm ale. When the headliners lit the largest incense torch you'll likely get away with indoors, clouding the room in smog and suffocating further the oxygen, our discomfort was complete. And I'm not - or at least wasn't - the biggest fan of WITTR, but the presence of Wode in support convinced me to attend.
Thank fuck for that. Fears of synth-assisted post-black metal sheen boringness never materialised, were never further from the reality. They were ferocious, from start to finish, a punishing experience that wrought our tired bodies to the limit. They were truly magnificent, a set I'll never forget. As we traipsed out of the venue, ears ringing, hair sodden and clothes humming of fire from the torch, there was a collective grinning sigh, an exhale off contentment that only great gigs can provide.