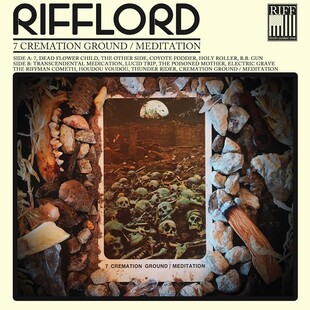 There's something about this record, before you even play it, that makes you sense Rifflord mean business, despite the daft band name. Whether its the smart art work, the fonts, the slightly cryptic album title, or the bulked up playlist of thirteen tracks, I'm heading in with a lot of hope.
After a bluesy opener, Dead Flower Child arrives to confirm the initial optimism. This is nice riff n roll heavy rock doom. Imagine Blues Pills rhythmic beauty with a much gnarlier doom tone... before inexplicably turning into a brief cover of Hand of Doom mid way through. It does at least showcase early Monster Magnet style tripped out keyboard input, and returns to plan with a bang. Odd, but oddly couldn't-give-a-shit cool too. The following The Other Side is bright and retro in a Horisont or Troubled Horse manner.
However by the time it gets to the eighth track, a mellow minute acoustic interlude, I am left wondering if it has dipped since the strong early momentum. It has dampened a little and the proto-doom veneer has worn off. Yet arguably this instead has been replaced by Scandinavian style stoner - the good stuff too, in the avenues of Asteroid or Greenleaf.
There's variety from there on right to the end. There's the Clutch-like blues play and tease of Hou Dou Vou Dou, or another notable doom nod on track ten - Electric Grave: Electric Wizard. It is decent but blatant Witchcult Today fare. At one point, as best as I can hear, the lyrics seem to even admit it - "Electric grave, we've come to pay tribute, to the master's ways".
The Riffman Cometh sounds again like a Sabbath cover, this time in the music not the lyrics. Am I imaging it based on the earlier insert? Of course not, and here's the titular hero Iommi in sample form to prove it. Even the final track, Thunder Rider Cremation Ground Meditation, elsewhere a spiritedly number mixed with Sleep's Holy Mountain, manages to slip a cheeky Sweet Leaf cough in before they call it a day.
With a name like that, you're putting yourself up for potential ridicule. Your music best back up the bravado. Rifflord, for the majority, achieve just that. This is an ode to doom, to Sabbath, and to the might of the riff. The reverent tour offered by 7 Cremation Ground, Meditation is an enjoyable ride.