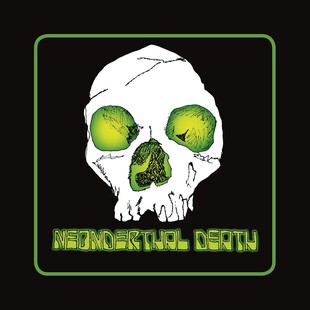 I'm not sure what this is, but find myself letting this loop over and over to run through yet again...
I can't even say if a full album, as opposed to the two tracks across little more than six minutes here, would be a masterpiece or a drag as the potential novelty wears thin.
What I can describe is an imagination of the Stranger Things synth soundtrack as vocalised by one of the show's shadowiest monsters. This is synthwave as abused by a death metal vocal and occasional guitar chug.
It creates a spooky environment, the stark clash in style working together surprisingly in compliment, to settle an most psychish aura. To find this's being released on Ektro Records is no surprise, the label of Circle and Pharoah Overlord no strangers to strangeness.
It is nothing if not intriguing. Neonderthal Death, a duo claiming to be the Synth Wave of Swedish Death Metal, may not be able to follow this - never mind novelty, can such an unbalanced mindset even last or must it implode before they get so far as a full album? Whatever, they've created something different, and thus worthy of your next six minutes of attention.