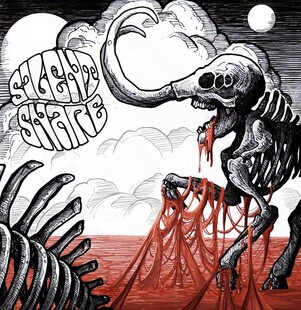 For what started as a high school Nirvana cover band, Silent Snare have come far. The Belgians arrive here as unknowns, but the first track grows on you the more it progresses, and you know you're in for the long haul.
It is called Perished in Perihelion; a spoken word vocal delivery gives a cold feel to what is otherwise a fuzz felted stoner rock sound, a distant and affected distraction that keeps this away from the genre's oft self-repeating sterility. In other words, it's an exciting take on the sound, a wholesomely excellent start.
An expansive Colour Haze styled trip through the cosmos follows on Yawmuddin, with Eastern traditional psych scents. The weightiness applied loses some of that subtle definition, but at the same time gives a bends in the depths head wobble experience which is equally thrilling.
From there, it dips, never to recover. The entertainingly titled Vegetarians are Biodegradable follows, but between the heady flows of floaty psych, stoner and sci-fi samples (from Soilent Green), there's a "southern" style grit which I'm naturally averse too, one that the mystic air masks, and if cleared would perhaps reveal mere sub-Down lameness.
Hard to tell. Yet it is furthered over the remaining album, treading a line between generic naff-stoner tiredness (particularly via odd vocal passages) and the elegant bombast of The Sword or maybe more pertinently Elephant Tree. It is illuminating one passage, frustrating the next.
The full front production certainly bolsters the Silent Snare experience, yet perhaps loses some of the psychedelic undertow beauty you can faintly detect they're endeavouring to generate beneath. Hold Your Mammoths is lost in the middle of nowhere as a result, never failing but never achieving, while the final track is a non starter with sleazy, dirty garage rock.
A shame, as this started so well. It takes a few runs through to confirm, but there's a really good band in here you suspect, and each time I get back to the first couple of tracks I'm in blissful stoner-rock rock-out phase again. Well worthy of your attention, but probably after time to grow.