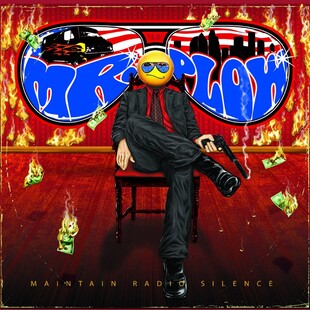 Reluctant to enter due to the cover, I stay for another cover. To explain, the terrible cover artwork may be distracting, (and the promise of straight up outdated stoner rock not particularly appealing) but there's a promise of an unlikely Cannibal Corpse cover version in here that I've got to hear.
Mr Plow have been around for a couple of decades, so a sound that feels unmoved from stoner rock's heyday is at least understandable, but the first track seems to confirm there's been little influence since to update or individualise the sound.
It picks up on Samizdat, lent a differing and essential edge over the generic sound through an oddly almost spoken word vocal delivery. It reminds of Chris Goss' approach to Masters of the Reality's 1999 album Welcome to the Western Lodge, that link rubbing off with associated kudos and appeal.
Elsewhere it is as expected, a fair bit of okay stoner rock, a little rocking stoner rock, a tad too much bad stoner rock. You get the idea. Johnny Gentle is probably the point of reference for the best of the rest, brooding and impressive.
Then there's the Cannibal Corpse cover. Hammer Smashed Face at that, probably their most well known (and the track Jim Carrey danced to in Ace Ventura). Except it isn't a cover as promised in the promo, not really, more a muse, suckering me in. It rocks though, the sound pure Blues for the Red Sun, the lyrics at points great - "the closest I'll get to a state of grace, is a hammer smashed face".
An album that has many dated elements, there are a couple of high class moments that push against the bad thoughts, leaving a favourable outlook on Mr. Plow, even as you stare further at the state of that artwork.