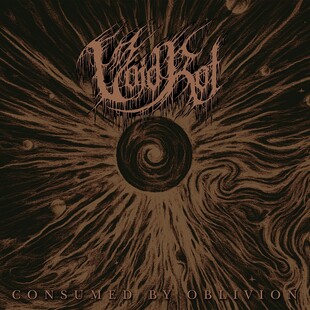 A three track tape of death/doom from Seattle, this is a short entry point into the work of Void Rot, but it is perfectly crafted, a quarter hour of doom darkness and death mastery.
Consumed by Oblivion is truly vibrantly atmospheric, layered to bring more than the simple slow and grim one dimensional approach of others, this simultaneously scavenges in the earth, the front and centre death doom appropriately muddied, while behind there is a launch to the cosmos, through a subtle and unexpected expansive approach.
And that's just Ancient Seed. The title track's impressive death riffs transform the initial funeral trudge into a rampaging whirlwind, sweeping all comers along with it; consumed by oblivion indeed. There is a Bolzer styled rattle through Celestial Plague, a constant threatening shimmer that hovers and skims, an unsettling pulse that is strangely addictive.
Everything you want from an EP of a new band, bracing heaviness, riffs and a freshness that stands out, with not a weak moment to be found. Void Rot - note the name.