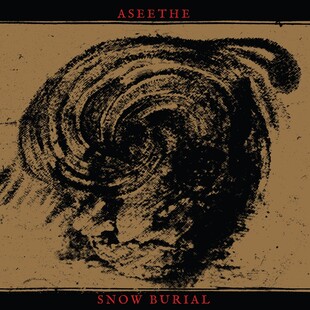 Aseethe, from Iowa, impressed with their last album Hopes of Failure, early last year, devouring the sun with a purity of bleakness and heaviness. This again pummels, the five minute restriction of song length giving them more immediacy than on their full length, giving a sludge (almost-) groove to the otherwise Primitive Man styled assault in the dark. The way they revolve, turning riff over and over, is still evident, still mesmerising. Only a hard hitting ending breaks the spell. It is excellent.
Snow Burial are from Chicago, and their post-metal output brings inevitable periods of light, particularly set against Aseethe's blackout. It follows familiar paths in its architecture, a meandering sense of waiting for the explosive heavy release - which in turn brings standard Neurosis reminders. It's by no means bad, just familiar, and when they move away from this after the first turn, with political sampling and a noticeable agitation in the guitars it comes round again in a much better frame, the ending outpouring more engaging.
This is a one track each split destined for cassette release through Hand of Death shortly. It makes me pine for more Aseethe, and has me scrambling to check out more of Snow Burial's recordings.