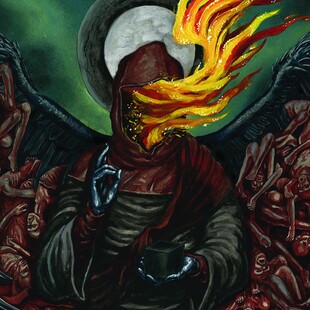 The third album from Abjection Ritual is a bleak affair - approach with caution and a stable frame of mind.
They have grown as a band, here incorporating admirable new sounds, exploring additional avenues, yet continuing to be unnerving to engage with. Take Deathbed Conversion, the fulcrum track of seven, or Carnassial Passage, more than fourteen minutes combined of sample and noise atop a minimalist electronica backdrop, like a spaced out Gnaw Their Tongues.
Elsewhere there are voyages into the desolate worlds of awkward, violent and brazen pioneers such as Swans, Path of Totality-era Tombs or even the hate splurge darkness of the likes of Lord Mantis. The ugly sludge style of the latter is excellent, such as on Ruin, where Amenra-like post-metal stretches the boundaries. Body of Filth welcomes you into the album with tribal drum patterns, post-apocalyptic atmosphere, impassioned vocals - yep it is very early-era Neurosis, but great despite that obviousness, with a slight industrial element.
My only issue would be the either/or singularity of the tracks - here's a harsh noise one, this one's a harsh sludge one - it doesn't combine together consistently. When it does it is, for want of a better word for matter so dark, illuminating. Blood Mother flicks a switch from a hulking black-tarred outer-fringe sludge doomed riff to the industrial strangeness, and eventually back again, frustrating the tempo but creating an almost cinematic arthouse unease. And then there's the closing Old Sins, a prowling hunter in the shadows, the distorted tone oozes outwards, sleek yet dangerous. A gentle middle section seems to signal the dawn at the end of the nightmare of the preceding album...before, inevitably, one final turn for the horrible, a screech and bass heavy descent to depart.
Sometimes you can be truly absorbed by albums such as these once you press play, to only find you never begin the experience again in future, whether that's because of the energy it saps, or you never find yourself in the mood to engulf yourself into the whole again. Yet I've revisited this several times since I first heard it and am hearing new things all the time. It feels like a living entity, or a skewed reality you can tap into. Abjection Ritual have birthed a monster.