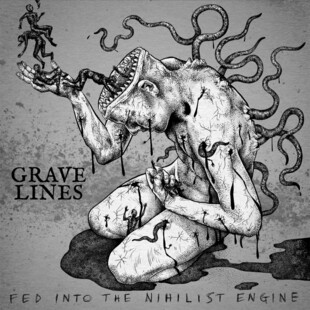 It's been really interesting to see the progress of Brighton's Grave Lines. Having seen them a few times as support acts to a variety of doom/post metal, I've never been sure as to their intent. Their songs are vast, hang in the air and are full of a world-weary lament that you don't see very often. Halfway between sludge, doom and gothic metal, they've never fully clicked with me. That is, until now.
Given the room of an entire album, Grave Lines have found their medium. Fed Into The Nihilist Engine drips with regret, anger, betrayal and sadness. The gothic tinge hits you from the start, with the excellent Failed Skin, which builds from a cool, almost spoken word intro, into a bristling, slow-moving epic over the course of its 15 minutes. The vocals veer from a low singing, clean voice to a pissed-off and violent snarl. You feel as though Grave Lines are tapping into something bigger at points, harnessing the eye of the storm somewhat.
Far away from the collective members' other bands (Sea Bastard, Throne, Dead Existence, Casual Nun, Landskap, War Wolf, Dysteria, The Death Letter), Grave Lines stand out as lone warriors on this, the dour and hopeless Shame Retreat rings out with depressive lyrics and a single, downtrodden acoustic guitar before the venomous Self Mutilation by Fire and Stone takes over with a more direct approach. This doesn't dull the attack though, the overall feel is one of pouring scorn on mankind, questionable morals and society in general. Rather than a condemnation, this sounds like a dejected acceptance of how things are. Does it get any more doom than that?
Use of dual vocals make the haunting Loss Betrayal a highlight. This feels like an album staying true to a concept, it moves like one, cohesive whole rather than a collection of tunes.
The booming and bombastic Silent Salt underlines this. More strident vocals and some exploratory passages where the guitars squeal and peal churn the maelstrom once again.
Most interesting perhaps is the dreamlike Loathe Displace. Vocals, deep and resonant, float over dungeon synths and introduce a 80s goth influence. You half expect a drum machine to crash in at points like early Human League records. Instead, the synths swirl away subtly to nothing, truly unique.
By the time the drums of The Greae roll in, Grave Lines have already produced an album worthy of everyone's attention in 2018. Truly its own master, Fed Into The Nihilist Engine is a statement like no other we've heard at 9hz this year.