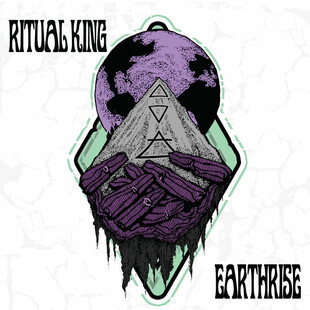 A new three track EP from Manchester's Ritual King, put out through When Planets Collide, is an opportunity to catch up on their progress, having steadily made a name for themselves live across the country.
Ideology kicks things off well, the start of which is a nice and tidy mixture of 70s power trio styled hard rock, blues and stoner. The vocals are a bit too earnest, only a little niggle, but the overly affected style grates a touch. After the decent start it doesn't really develop, becoming generically stale by midway through. It opens in scope with some nice soloing guitar latter on to rescue it.
The central Tides contains a great intro again, reminding me of Josiah's deft joyful skill. When it drops down tempo it again flags, but it maintains its shape more than the previous track, keeping the playful riffs to the front more often than not. The more I listen to this, the more I realise it's pretty damn good stoner rock.
But Anyway closes - it isn't bad, but not great, although I'll admit I can't put my finger on what bothers me about it. There's a decent stoner backing, a touch of Graveyard in there too particularly in the vocals, but it doesn't knit together.
I could stress the negatives here, but they're not what you take away so lets not do that in summary. The flashes of inspiration, particularly on Tides, point to a band almost unfashionably sticking to a blues-end stoner sound and giving clear signals that they have potential to produce something special with it.