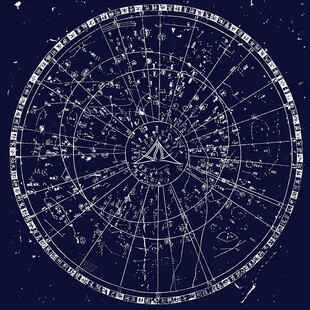 The drone masters of the North East return. Bong have been around seemingly forever, a stable counter note to the doom trends that have come since they began, always masterful and getting better with each release. Thought and Existence is made up of only a couple of extremely long minimal, droning tracks, true to form.
The first, The Golden Fields is over seventeen minutes in length. Astral themed, a sample early on adds to this feel, the guitars enter, feedback growing, warming. The first real clatter of drums, three and a half minutes in, act as to pump blood into the comatose drone hum. It's around six or seven minutes in that I lose myself completely to it, transported in mind, a majesty in the minimally attired vast scoped viewpoint. The theme, the artwork suggests a trip through the stars, and you can sense that, although when within its spell it can assist in teleporting you wherever your mind imagines. The chanting vocals build upon the hypnotic state, the walls of static and feedback layered beneath. The final three minutes or so truly take flight, dense space rock magic.
There's more activity from the start of Tlön, Uqbar, Orbis Tertius, although tempered, muted to a degree. The murmering guitar circulates, and repeats, and repeats - the repetitions quickly delving you back into a mesmerised calm. It is beautiful, truly celestial. The revolutions slow eight or nine minutes after they began, the unwinding process itself lasting aeons, past galaxies increasingly in all colour focus. In the ending passage, with my head back against a cushion, eyes closed, earphones relaying the final transmissions, I realise I'm in a meditative state, fully subsumed.
The view from the stars narrated provides a strong identity, and one that places this alongside long-form astral psychedelia (I was going to mention Blown Out as a comparison, but I've got a feeling there's cross membership with Bong anyway), as much if not more than your typical Sunn 0))) central marker typical of drone. And Thought and Existence is as a result gorgeous, truly involving. Bong are basically the best out there at what they do.