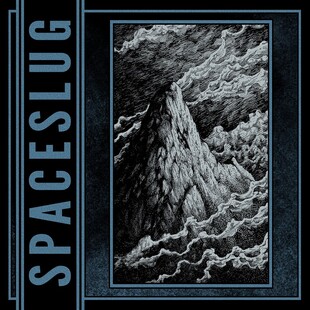 Poland's Spaceslug tread the stoner rock line faithfully, but always with their own distinct take - familiar sounds at every turn yet never sounding tired. The ever present psych elements blend in superbly, the amalgamation more than the expected sum of its parts. Mountains and Reminiscence came out last year, but is now getting a vinyl release through the ever busy Kozmik Artifactz.
Bemused and Gone is a nicely mellow introduction, chilled vibes transmitted, a spacey psych rock, the glazed over eye contact of Colour Haze. It never deviates, never truly awakens. It is great. I Am the Gravity is more upbeat, more than decent stoner rock.
There are reference points aplenty - take fulcrum track Ephemeral and lets list - the Californian desert baked sounds, the 90s Dutch and Scandinavian stoner scene, German psych-stoner magic, the slightest touch of grunge, a sprinkling of space rock stardust. You can easy enough point to the points of origin, but as there are so many it matters little, and ultimately all you notice is the music, shining through.
Space Sabbath may contain a cute title, but its intention of tripping out on reimagined Sabbath riffs doesn't work anywhere near as well as you'd hope. Using 2001: A Space Odyssey, as it does in its samples, and the originators of metal as its blatant muses feels a little too obvious in its space rock intention. The closing Opposite the Sun features Ian Curtis styled vocals, nicely simmering guitars, and a content relaxed descent towards the album's close.
Spaceslug remind me of a time when stoner rock threw up gems from the shadows, from the lesser known names and unlikely locations, on a regular basis. Mountains and Reminiscence may offer nothing new in its composite parts, but as a whole is a grand offering. I like this a lot.