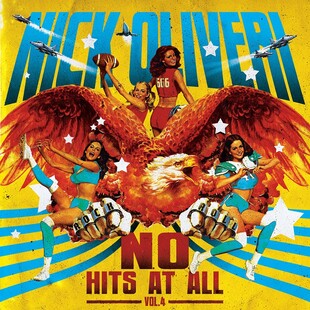 I always thought QOTSA went downhill after Nick Oliveri left, not to say that the newer albums don't have their merits, I just always preferred their sound when it was led by Nick's bass. Having said that I have never heard any of his solo stuff, so I picked up this record for review with some interest.
I'm not sure what to make of it. As a body of work it is very stilted, apparently the fourth in a series of albums featuring tracks both previously released and unreleased where Nick is providing the vocal. There is some good rock music in there, namely some nice riffs on Identify, Isolate, Manipulate (recorded with Biblical Proof of UFOs) and Hanging Low (with Loading Data). This seems to be interspersed with what I can only describe as filler, such as an acoustic cover of Endless Vacation by the Ramones which I find completely pointless. While I suspect I am not the target audience for punk rock anthems such as Fuck You up and Get High (The Dwarves) and Super Hero (He Who Cannot Be Named) they are fine, I suppose.
I found myself in the pub the other night with a dear friend describing this album 'I'm just not sure who its for?' I whined across the table, 'maybe it's for Nick' came the reply. I have to agree, I think its for Nick. But if Nick really felt the need to release this stuff were four records necessary? I think maybe he could have squeezed the decent stuff onto one 12" and been done with it. One to avoid.