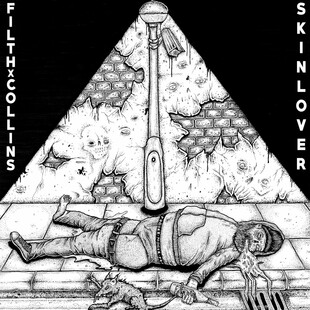 Two brief but punishing sides from the ever-reliable and incredibly prolific Vetala Productions who have placed Lincoln's relatively new Skinlover alongside FilthXCollins from Nottingham.
The FxC side blurs by in moments, ten tracks crammed in their like their namesake's money under the mattress. It's two fingers up to society via short, sharp bursts of powerviolence via 90s grind, complete with samples that are about as long as the blasts of vitriol that follow. Featuring the ever-present Kez Whelan on guitar and vocals (he of Terrorizer magaine and stop/start/fast/slow miscreants Shrykull) and a drummer who seems to have itchy feet, hands and legs, FxC are a force to be reckoned with. Bringing to mind such grind masters as Benumb or perhaps a more primitive Human Remains, like all good fast bands, leave you wanting more.
Skinlover's side is less paced but packs some brutal chops too. Vegan/anarchist tendencies are on full display here, there's the lumbering Bloodmouth and pained sounding Empty Vessel paying tribute to an underlying message. This band features some of Lincoln's most active scene contributors and can regularly be seen deafening audiences in the region. Skinlover plough an active furrow, but come out having created something altogether original. Look out for more on them this year and an in-depth chat about it on Ninehertz Podcast number three when it arrives.