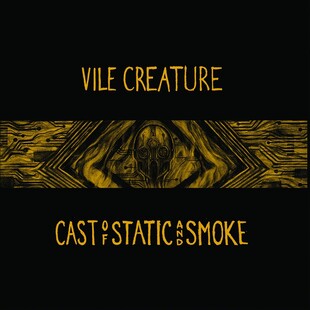 That ever so faint murmur you may feel if you've read about the name Vile Creature in recent times is the sensation of what passes for buzz in the underground world of epic, progressive and the bleakest of doom circles. Having come across their previous output last year, their name has popped up several times since, presumably increasingly in preparation for this release, and the fact this comes out on the ultra-reliable Halo of Flies and Dry Cough tells you plenty.
The first of four tracks, Water, Tinted Gold and Tainted Copper is heavy - very heavy - in the Bismuth or Ommadon sense, although with more forward propulsion. The vocals are incredible - when first addressed they seem little more than your par full throat scream, but they convey so much, carrying a gravity, an emotional dread and passion simultaneously. With the vocal attack augmented by Chris Colohan from Cursed and Sect on the opener, it is a fearsome and central part of Vile Creature's arsenal. Allied to the behemoth of the ultra dark doom that lies beneath, it is a formidable opening.
Circuits, Bending and Breaking follows with a slow, dramatic drum and drone opening, like Monarch!, it is grand, tension filled, the uneasy turn in atmosphere ahead of an approaching storm. When it arrives the anticipated destruction never truly occurs. There's a subtle restraint - relatively - that stops it entirely crushing your eardrums as expected, a sadness surging through the speakers. My mind is cast to Monolithian, blackened doom... it is another marvelous track.
The thirteen and a half minutes of Forests, Subsists as a Tomb primarily features a series of long repeating doom riffs, nightmarish vocals combining to close in, light relief through the occasional upwards inflections drowned within, even then acting in pity or remorse as opposed to any semblance of hope. Sky, In Descending Pieces is thoughtful and brooding in its entry, adding momentum and weight incrementally, the revolving riff that appears possessing you before you truly realise. It is mesmeric, and then in the last couple of minutes, despite the full throated shrieks, it feels as if it offers a wistful smile to depart on.
This is Vile Creature, and this is why this album was so eagerly anticipated - because this, Cast of Static and Smoke, is magnificent.