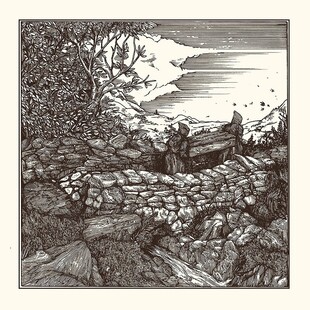 Conjurer's I was a favourite of the last couple of years, if you haven't yet heard it now is the time to check it out, a thunderous debut EP; it mixes doom, sludge, black and straight up metal. So it was with some trepidation that I hit the play button this first full length from the Warwickshire band, could they maintain their vitality over a full album?
The opener Choke immediately reminds you what this band are all about, discordant sludgey riff fest into technical double kick laden speed metal, and then back again to mid tempo breakdowns. There is a level of quality that belies the band's relative infancy, this could easily be a big label release from a well established act.
By the time third track Thankless comes around it is clear there is no need for concern here, Conjurer are picking up where they left off and running with it. Thankless is a face melter, the kind of track anyone would love to have written. I can almost see the band winking at me, 'You want some black metal? Ok try this on for size. Oh metalcore now? Sure we have some of that in the bag. How about some good old fashioned riffage for a few bars? You got it.' and every member does their fair share; the rhythm section is sublime, dual attack guitars ferocious and delicate in equal measure, vocals some of the best growling in the business. We even get a touch of clean vocal, which while it may split opinion in some camps, I find it is well deployed and not overused.
There is a comparison to Opeth to be made here, and I would say that the band has probably spent a fair amount of time with Still Life and Blackwater Park, but this is not the softer, more classic rock driven Opeth of today. The similarities lie more in the melancholic texture and the breathing space the band deploys regularly; this is a band, like early Opeth, who understand the value in light and dark, who relish the power that contrast brings.
The following 3 minuter Retch is a low point, which is not to say that the quality drops significantly, it just feels slightly out of the place with the rest of the album. The breakdown towards the end stands out, but the meat of the track is fairly standard fare. However, it is worth mentioning that even this effort could easily be the high point of a lesser record, it just doesn't maintain the level achieved throughout the rest of the album.
Following this with The Mire the band are back to their hammering, anguished best. The intricacy with which they mix the double kicks with chugging riffs sure to make this one a real crowd pleaser, the excellent vocals again front and centre. Having caught Conjurer live last year I can confirm they are this good, their recordings are excellent, their performances on stage better.
With Mire Conjurer deliver what is so often missing in heavy music, variance, originality and dare I say it, beauty. They remind me of why I, and I suspect so many of us loved metal in the first place; art which is not always easily definable, meaning that is not immediately apparent and requires patience to divine from the material. Or maybe it's just a fucking banging moshpit album. However you see it, I defy you not to enjoy this record, it is a tour de force, a lesson in the craft, the best late Christmas present we could ask for. Happy new year.