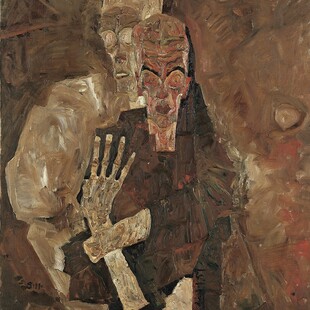 Two pioneers operating on their own wavelengths in the abstract plains of extreme metal, this feels like a natural pairing. With a single track each, both at least twenty minutes, it is an epic adventure, taking the same central inspiration - with each track named the same as the split, after a poem written in 1913 by Austrian expressionist Georg Trakl. The artwork is Austrian also, Tod und Man by Egon Schiele, a protégé of Klimt. Both are worthy of note as they provide direct muse to what is to follow.
Recommended to me by a friend with worryingly bleak musical tastes, inappropriately at the height of summer over a nice beer garden pint, I subsequently found myself hooked on Jute Gyte and their extensive back catalogue, developing a disturbing relationship with this year's Oviri in particular. The solo project of Adam Kalmbach, from Missouri, it is extreme music as devised by a warped motherboard, sounds developed, instruments added in calculated deployment, a creative design born of artistic visions not available within the wiring of the vast majority. At times it makes for ultra harsh unlistenable mesh, others it sounds truly hypnotic.
Their involvement here, twenty minutes long, is definitely in the latter grouping, the harshness in the contrasts between the percussive elements and squawking guitar still present, as are the nasty and gnarled vocals, but it is all underlaid by a gentler outlook, relative of course. As with their (his?) best output, it feels mechanical - the sound of a thousand industrial machines giving their last output before decomission - yet beguilingly organic, a sound that could only be human, despite the fact it sounds like no other. Similarly the jarringly dysrhythmic core is at odds with the natural flowing drive that propels along this vast length, never stalling in one passage or area. The dynamic of contrast is central to listening to Jute Gyte - in play here not just in the moments, but as an overview, a vast sprawling awkward trial by noise that feels oddly soothing to experience.
Greece's Spectral Lore - also singular in membership (Ayloss) - are similarly prolific and held in the same high regard for the followers of the avant garde of the extreme. Vast projects of atmospheric black metal are the hallmark of their history, but achieved with experimental methods, deviations from the norm.
Here it begins gently, and even when the heavier guitars enter the pace and weight are controlled. It is calming, and as I find the poem that is its muse - which begin's "In the spirit's solitary hours, It is lovely to walk in the sun" - you can lose yourself to visions of nature and beauty and relaxation. As it reaches the 10-11 minute mark, around halfway, it takes a turn for the blacker, dramatic My Dying Bride doom style overtones, to match the darker elements that develop within the poem, as summer turns to Autumn and the allegories of death that seems to invite. Loose strains of black metal dance along, as ghosts in a forest, never committing to a full on assault, haunting and distracting.
Together, this is a fascinating journey, a simultaneous interpretation of the impact the art of another has on two individuals, both already operating in fields of their own, in their own streams of consciousness which we are invited to witness.