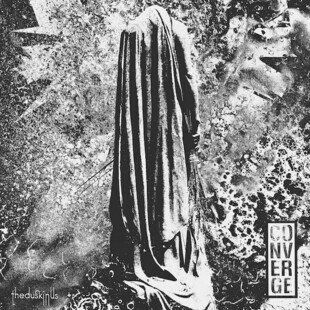 'Where can you run to
What more can you do
No more tomorrow
Life is killing you
Dreams turn to nightmares
Heaven turns to hell
Burned out confusion
Nothing more to tell'
-Black Sabbath - Sabbath Bloody Sabbath, 1973.
It's with that resignation that Jacob Bannon enters the ninth record by Converge. But it's not one that means them entering any period of calm. Soaking this up over a day or so, the stinging wounds still feel open. As with any Converge record it will take time to reveal its wonders but first impressions suggest what others are calling 'metalcore architects' have started to meld their craft even more.
Five years is a long gap between records, but in the meantime, a vast revisit of their meisterwork Jane Doe has seen them perform it in hair-raising style, note for note and on fire at various venues across the world. Compare the raw and ripping savagery of that record, which still sounds fresh today and place it next to this and the differences are negligible. Bannon's personal demons are by no means slain but he bursts here with a sadness that feels euphoric rather than venomous.
His lyrics are certainly more decipherable, he still veers into rabid dog and yelps that pare off into the ether but an insistence on getting his message over seems more urgent than ever.
The music of course pulses, traps you in small hooks and sounds as perfectly chaotic as it always has. The sense that this group of four moves as one has been obvious forever, but there's still that 'holy shit' moment when you feel it all crash in together and nobody quite does it as well as Converge.
The haunting title track even slips us some Oxbow-esque acoustic peace, Bannon's vocals creeping in like a silent, creeping fog. His lyrics here are achingly beautiful, talk of monsters walking among men, surviving and looking back at life with a sense of battered pride. Existential lyrical forms are by no means rare in heavy music, but Bannon always seems to keep things above the twee, benign and toothless. This title track will no doubt induce tears live, it's like a fire in the snow.
Trying to review a Converge record effectively often requires more intellect than reviewers possess. Our advice? Take it in and see what gels for you. This is one of the most and least accessible records I think the band have produced. It won't tell you everything all at once. It's equal parts contrary and wanting to show you everything all at once. Confound you Converge, you're going to be in my life forever.