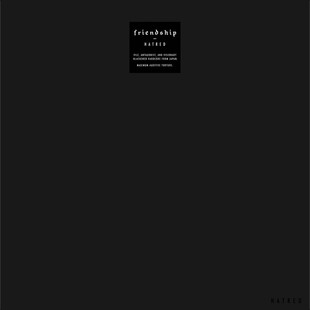 The disarmingly titled Friendship, from Japan, found wider release for their early EPs only earlier this year through the admirable Sentient Ruin, yet return already to deliver fresh terror, now on Southern Lord. This is grind, powerviolence and sludge caged together then bludgeoned into a messy combined pulp.
Unholy, uncompromising, ugly... Friendship never relent. The opening Rejected lanches outwards, a drum blitz smoke grenade thrown at you to immediately disorientate. A couple of tracks travel over from the previous release, the excellent Compton and El Chapo, but that leaves ten of the dozen new to the ears.
At an almighty 200 seconds long, Corrupt is by far the longest track here, its slow and doomy intro added to by ill-sounding vocals that lend a sludge dread. As good as it is, as it picks up into a hardcore fuelled pace it passes into excellence. It is backed up by the shortest track, the minute long Tortures, plenty on offer despite the length and central powerviolence splurge.
There are further highlights throughout - the satisfying shred of Grief, the extreme metal barrage with punk abandon delivery of Life Sentence, and more - but it is best consumed in submission to the battery of the whole.
The flecks of interest from other genres, sludge and doom primary among them, stops this from becoming one long headache of extreme metallic hardcore belligerence, subtle difference greeting each track. Think of the bluntness of Nails with the sharp edged noir of Full of Hell amid the swamp murk of Soilent Green. It is consistently compelling.