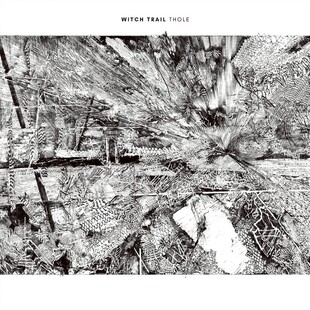 Witch Trail's press release informs me they have had an album and two EP's released prior to Thole; having heard none of the prior releases one phrase which did peak my interest is 'danceable black metal'. Hailing from Ghent, Belgium they are a three piece who share vocal responsibilities between the guitarist and the drummer.
Looking forward to some genre bending blackened metal I was a little disappointed upon hearing the first two tracks. While there is plenty of tempo shifting I wasn't being delivered the Torche like manic style wanderings I was hoping for, although the band do deliver plenty of energy in its place. One stand out here is the guitar tone which has an almost Pixies like surf rock twang, certainly interesting in the context of a fairly heavy blackened doom sound.
By the time the third track Splendour starts I am beginning to think my hopes for the record are unfounded, at which point Witch Trail grabs my attention and maintain their hold for the next four tracks. There is a definite new-wave/goth element to the opening riff and it is quite a contrast from the opening of the EP to find yourself nodding along to something that could easily be written by The Cure. Jeffrey Andreka maintains his signature guitar tone while adding a vocal that brings to mind Fenriz of Darkthrone and somehow the whole thing hangs together rather nicely, so nicely that I find myself listening to this track daily. There are so many hooks and variances throughout that keep me coming back; if they had maintained this level of quality and creativity throughout the EP, it could easily have been one of my favourite records of the year.
The remainder of the EP happily cycles through post-rock, sludge and occasionally finds itself back in the realms of new wave. The willingness to explore genres and textures here is evident and I love it, despite this you are never far from descending into busy black metal chaos or crunching into a doom breakdown mid track. That Witch Trail manage to do this while maintaining the urgency of a three piece punk outfit is essential to their sound and really drives you through this record; there is an undeniable raw edge at all times. A cracking effort that doesn't outstay its welcome, I'll be keeping an eye out for future releases.