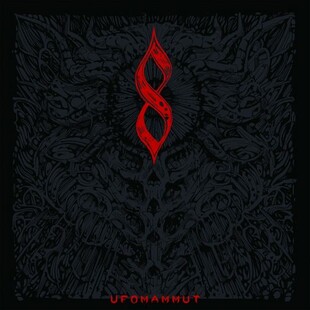 8 is Ufomammut's eighth album. It has eight tracks on it. Some of the tracks are around eight minutes long. Clever, no? Well, no, not really, and nowhere do the band try and give a knowing wink to this most basic of leitmotifs. I bring this fairly inconsequential detail up only because simplicity and 'getting back to basics' forms the crux of 8. That's not to say that the music itself is in any way linear or straight forward. However, the album is unquestionably their most direct release in years, with individual tracks that are easily – and purposefully – distinguishable from one another. Eve and the two-piece Oro this is not. Rather than their now customary, signature wall of sound and conceptual approach, Ufomammut's new opus brings a focus back to songs, back to the march of pace, of codified structure and planned destinations.
Although 8 may not be the release many fans of the band expect, it does still feature the tone that they are rightfully lauded for. It is that renown through-line that makes 8 unquestionably an Ufomammut album. The album feels concise, as each track, though some meander and experiment with their trademark soaring synthesisers and cyclical drum patterns, all have a backbone generated from at least one massive, roaring riff. To my mind, Ufomammut have, in their past, fallen into the trap many of their genre do; that is, to repeat riffs ad nauseam and to obfuscate their overall sound to a point that one can't tell whether it's a conscious decision or poor production, or worst, both. Ecate put these occasional extravagances to bed, and 8 doesn't let them resurface. Formed in 1999, the band have matured and it seems their bombastic songwriting has become more learnéd, or, more to the point, they have learnt the greater meaning of grace and brevity.
Establishing their name over the years, Ufomammut have become one of the leading lights in the genre, joining the hallowed roster of Neurot Recordings in 2011, and taking the stage at diverse festivals from Roadburn in the Netherlands to Maryland Death Fest in the States. They are, rightly, a cornerstone band that listeners judge and compare others by. 8 further cements their place in canon, but – unlike some contemporaries of the genre – offers up enough difference to keep the band startlingly relevant. The greater efficiency of writing means that the tension created on Zodiac is never overwrought or overdone. Choice cuts Core and Warsheep pummel the eardrums with more than the crushing, cosmic doom of the Lucifer Songs and Idolum era; they are infused with a scythe-like momentum that cuts through Poia, Urlo and Vita's stream-of- consciousness, rather than being happy to rest in the eddies of the past.
Instead of continuing to expand and expand their sonic force, Ufomammut seem (for now) to be enjoying honing their stylistic approach. 8 is undeniably a highlight of the stoner doom, cosmic psyche crop of 2017, but it will surely be remembered for its nascent sensibilities – the nuances and gerrymandering of structure bestowed on tracks that could easily have been longer and repetitive – as well as the monumental heave of its overall sonic tapestry. The listener can, of course, immerse themselves in the layers Ufomammut produce on 8, but it is from standing back and observing, that it leaves its' particular mark. As the band themselves comment, "[The writing of 8] has led us to step back and observe the continuing evolution of [the band]." Do the same, marvel, and enjoy at the continued metamorphosis of these incredible artists.