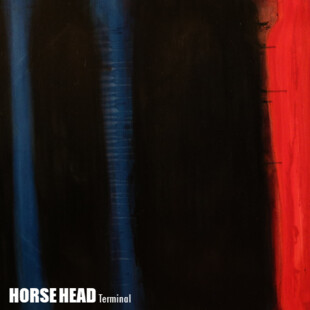 Horse Head, from Arizona, a handful of EPs before this - I'll admit to having heard none to this point. One run through of this self titled latest - I'm off to bandcamp or wherever to find their whole back catalogue.
See, this is fucking ace. I can't even spend the time to find more eloquent words, it is the blunt truth.
It is without pause, perfectly intense - a hybrid of sludge and hardcore that brings the best of both into a passionate and tempestuous cyclone. The vocals too - a dual approach of shriek and death growl is a clash nothing new to sludge, but rarely as energetically committed as here. Inferno sets the stall out as such, and the EP never once dips. It demands repeat plays.
There's an almost Eyehategod venom to Throne of Lie once it kicks in, but with a faint but discernable positivity in and between the big fuck-off crashing riffs. That's how I feel it anyway, the band may have other ideas - the pace is unequivocally faster than your typical New Orleans trudgery. On to Ghost Hunter - the spite in the vocals is truly something to experience, drives this music deeper into your consciousness than vocals normally can achieve. Allayed to the brilliance of the instrument-hammering behind, it truly stands Horse Head above the masses. Think of the best of the southern US sludge innovators - of Thou or Rwake; think also of the French doom hardcore of Cowards or Fange. This reminds me of both.
Needless to say, I'm loving this. The fourth and final track Price We Paid is a pummelling, guttural barrage from start to finish. Good enough as is, but there's nuance within, a savvy band with a cunning manipulation of heavy relentlessness with subtle changes.
So to sum up, this is bruisingly good sludge. Little more to say really.