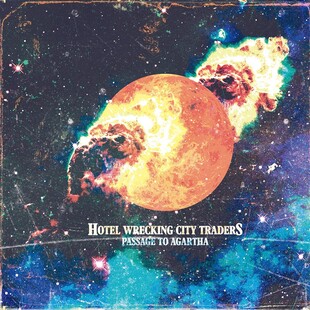 Over the course of the last 12 years Hotel Wrecking City Traders have traveled from stoner rock instrumentalism, through post-rock, to psychedelia, steadily progressive, increasingly astral, the latest voyage from the spaced out Phantamonium to here one only deeper into the void. Passage to Agartha contains six hulking wedges of psych divested, elongated, purposefully drawn out across a cumulative ninety minutes.
Even though they're never gone for long, it always feel warming to have HWCT back offering new music. The opening Quasar is bright, breezy and heartening. There's something of the space rock of Vinnum Sabbathi or Farflung within the repeating rhythms and the cosmic dust disturbing synth. It becomes fractionally heavier, tighter, a claustrophobia in the repetition, released only after ten and a half minutes are up. Kanged Cortex follows... yeah, this is good from the start. Heavy out of the traps, an eruption from the blast off.
Chasing the Tendrils...A driving, repeating line the pulse, a more intricate lighter guitar able to vary artistically around it. This lasts for seven of the allotted seventeen, minimal flickers occupying much of the next five or so, gentle lazy haze from there to end. The fifteen minutes of the title track starts with wistful meandering, experimentally slow against the synthesised effects. You begin to wonder if this is an indulgence too far but the lack of variance from the central tone allied to an increasingly battering drum beat drills into your psyche round three fifths of the way through and by the time it ends you realise you have lost yourself within.
Emotional Ohms of the Cavern Current, an appeal outwards to the stars, it does veer too far into its own isolation to truly engage, although the final minute's mass gravitates you back inwards to end on a high. Oroshi completes the over, a whopping twenty three minutes long, a final extended exploration of brooding and contemplative contentment.
Passage to Agartha could be seen as a challenge, needing time given over to fully absorb yourself within their artistic vision. Yet it is an investment upon which dividends are reaped manifestly. Hotel City Wrecking Traders have progressed throughout the years, yet despite starting from a high platform they have climbed ladder after ladder without a solitary backward step, until only the planets and the stars are their muse, their neighbours. Passage to Agartha charts the view.