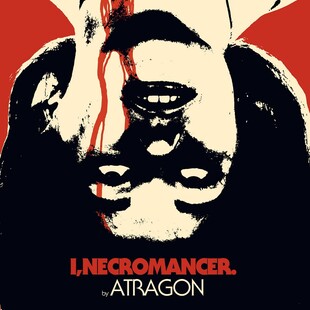 They've been quiet since they promised much with their two track Witch Hunter Records released demo in 2012, but Edinburgh's Atragon finally return from the void with a full length, and, frankly, if they've done nothing but write and record this album for the last five years then it's time well invested.
This is doom. Not doom as it is known to many nowadays, not any of the current modernisations or bastardisations or misappropriations of doom. Just doom. Take opener Matriach, which channels Cathedral, in the traddish doom it projects but also through the lyrical storytelling, conjuring memories of Lee Dorrian past. The galloping guitars as it picks up pace five minutes or so through is classic doom/classic metal abandon that sweeps you up and along.
Jan, the vocalist, declares himself the "master of a forest of death" on the even better Monastary of Silence, a classy turn, while on the title track Atragon truly excel, defiantly old school yet not dated nor tired - inevitable references to Reverend Bizarre and an overhanging overlord Saint Vitus worship, with Witchsorrow approved solos and touches of NWOBHM. All in all it's pretty fucking good.
Gone may be the supreme slow and dark sludge that took up half of their debut (The Sounds In the Halls) but the other 50% is brought forward and repeated, Jesus Wept represented again - my review of the demo is on record on this site, so I won't pretend to be a fan of this... it is good, just not as invigorating as everything else elsewhere. Take Wallowing Wizard's chuggy riffs that bring the beef beneath further fantastical lyrical nature and sustained soloing as one example, or the punchy The Dead Weight of Unimportant Flesh as another, burning bright as it stress tests the stoner/doom boundary.
Traditional doom done right yet not so in thrall as to be an irrelevant homage, this is electrifying. I, Necromancer can stand as a blueprint in how best to bridge the generational gap of influence and release. If five years in hiding is what it takes, then so be it, where the outcome is so entertaining as here.