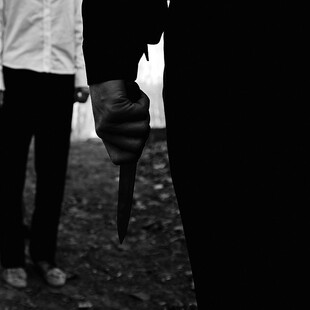 In certain circles, Hexis' new album is one of the most hotly anticipated of 2017. For if they build, even just fractionally, upon the quality produced across two incendiary albums and their input into a couple of spellbinding split releases, then it is sure to be a landmark album within blackened hardcore.
Hexis are the masters of this sound, in good company on mainland Europe around the likes of Rorcal, Celeste and Oathbreaker, but sitting atop the pile through sheer bludgeoning intent. Tando Ashanti further enhances their reputation, their importance. This is a sound born and living within the realms of hardcore, but corrupted by black metal disgust and dredged through the mire of the darkest elements of doom.
Their brand of short, to the point vitriol, eschewing fully fleshed song structure is in full evidence, Molestus for example recalling the blunt battery of Tenebris from their last album Abalam, a whirring tornado of destruction that sounds like no-one else, trademark Hexis, the all out assault of the drums taking over towards the end to offer no compromise. The frenzied Calamitis swirls and swarms tyrannically, while Opacus and Septem further apply the pressure.
That said, Hexis have begun to demonstrate a willingness to elongate their menace recently, particularly on their splits with Primitive Man and This Gift is a Curse, and they display this development here also. The longer tracks are demonstrably slower, a real desolate doom dread hanging over each. Tracks like Cordolium plot and brood, hiding in the shadows with plans of harm and discomfort.
The unrelenting darkness, the way each track cuts straight to the point - you'd think Hexis albums should be approached in small chunks, with medically-recommended rest periods between, but submitting yourself to the entrapment of the full length album at once is an immersive experience of pure oppressive thrill. Hexis have once again raised the benchmark for the best of black metal infested hardcore.