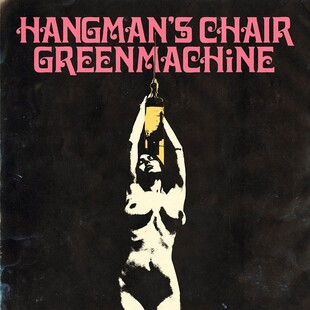 Holy shit, Greenmachine are still going. I received the link to this release only today and instantly put it on, partly to check it is the Greenmachine of Man's Ruin stoner original vintage, and also, once confirmed, to rekindle my love of the Japanese stoner/sludge kings as soon as possible and check if they still have got it. They have.
But first up on this split vinyl is Hangman's Chair's two tracks, listed as "heavyweight French doom", but offering something a little more nuanced than the press description pictures. Give & Take contains Pallbearer style overtones, clean vocals sat upon an almost gothic edged doom that points towards My Dying Bride or even Paradise Lost influence. It gets better with a darker turn, but then an electro shimmer ushers in a new-wave aura with overblown vocals, a touch Anathema, to complete the holy trinity of northern English early 90s doom, or even Beastmilk. Can't Talk is even more moody 80s indie that doesn't even venture into the vague neighbourhoods of doom.
Greenmachine return (although I'm off to check if they've stayed the course since their 90's The Earth Beater heyday, and I've just somehow missed out) with one long eleven minute track, Red Eye. It starts slowly, a threatening build of doom, hints of that rare stoner groove from memories past echoing around. It hits out four minutes through, developing into EyeHateGod style desperation sludge. The track is apparently split into five portions, and there are distinct movements, pulling back from the heavier moments with a heavy psych stoner air following, the scream of vocals keeping the threat ever-present. It all ends with a nice retro stoner riff section.
It is a fine track, and a happy return into the wider consciousness of one of the better second tier (in terms of fame) stoner bands of the genres glory era of the 90s. Hangman's Chair also impress; they aren't my thing at all, but you have to doff your cap to their boldness in direction.