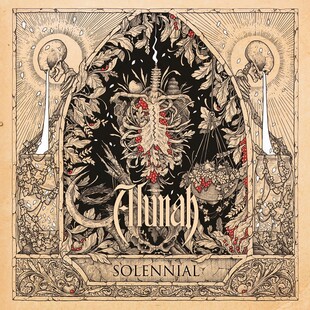 It's great to see Alunah still going strong, now in their eleventh year, they've gone through ups and downs but have become something of a mainstay of British doom, formed before the recent upsurge and yet still capable of producing top notch albums such as this, maintaining a relevance and a pigeon hole within our scene all to their own.
Their experience is drawn upon and displayed throughout Solennial, an album remarkable for its maturity, particularly for those who have been witness to their evolution from the beginning. There is an assurity in the music here and it reaps grand rewards.
As ever, it is built around Sophie Day's vocals and a steady, settled proto-doom sound. What is striking is how Soph's vocals have progressed, an incredible input that dominates the landscape. Around this is an ethereal sound of years past, lyrics and feel portraying a connection to the land and earth, doom of the forests and fields.
The Dying Soil is somewhat an intro, but the lush vocals usher you in, the instruments backing and building atmosphere. On the excellent Feast of Torches they cultivate a seasoned doom sound akin to the grandiose ambitions of SubRosa, with the direct proto sounds of Psychedelic Witchcraft, the occult imagery replaced with odes to nature. Petrichor is even better, lyrics mixing the metaphors of life, death and the natural world; "wild berries will very soon begin new life amongst my bones"; heavier doom driving through, a rounded and utterly beguiling five minutes.
Eleven years, hundreds of gigs across the continent, and a number of albums in, you'd forgive them for tiring. Yet Alunah have never sounded better, this a giant leap forward, a band not only comfortable in their skin but finding new ways of perfecting their sound, and succeeding at that. Listen to Petrichor, to Feast of Torches, be taken in by the vocals. Solennial is a grand return.