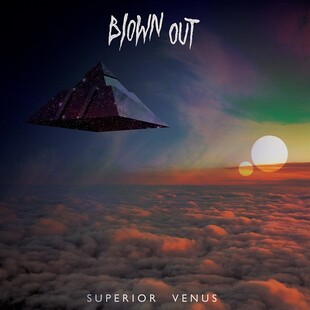 With members of Bong, Pigs Pigs Pigs Pigs Pigs Pigs Pigs, 11 Paranoias, Khünnt, Drunk in Hell and more covered across the three heads of Blown Out, the pedigree is strong. That Superior Venus is a mindblowing head trip should be of no surprise, but doesn't lessen the marvel and wonder this immediately inspires.
Two tracks, each over fifteen minutes, both instrumental deep psychedelic voyages, both head spinning, hallucinatory journeys through space. Impious Oppressor is the first, instantly teleporting your mind into intergalactic travels, with heavy rhythms and wild effects creating illusions of the brightest kaleidoscopic colours of distant galaxies. There is an ever present, repeating guitar line, a steady and grounding beat, the sound of your suit's life support, a reassuring background metronome amid the wonder cast in front of your eyes and ears.
The title track is similarly visionary, but perhaps less expansive, a touch more introspective, less deep space exploration revelation, more the contemplative voice of the astronaut soul, awed and honoured, dampened with their unique perspective of life and the loneliness that brings. The ever present rhythm again accompanies, a welcome and guiding pulse.
This is mesmeric music that takes you over and transports you away, a record to lose yourself within for half an hour and reemerge refreshed and wide eyed.