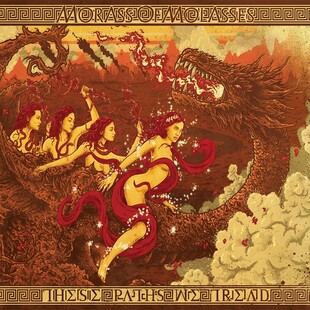 Reading's Morass of Molasses have made a name for themselves in the dark, dirty and dingy venues that host the UK's doom underground over the last several years. They can cement that reputation with the release of this, their debut full length, out this month.
My Leviathan begins, a great introduction. A thick stoner sound greets you, before the track stretches out, switching between doomier passages with suitably gruff vocals and gentler bluesy rhythms. It maintains a relative restraint throughout, the song flowing through the differentiations so to merge the contrasts seemlessly, and admirably.
It highlights two key principles evident album wide. The first is the variations in vocal styles - the lead a clean sung approach, backed or usurped by more forceful and rough bellows as the tracks pan out. On the decent Serpentine the quieter approach lends a grunge scent to otherwise stoner sounds, as if Scott Weiland fronted Grifter... Maenads is remarkable in this sense too, the whispy vocals awoken with loud guitar interruptions, its lyric "a sweet malaise" could describe this conflict.
My natural instinct tells me that this should rankle and must sound depressingly dated, but largely it staves off this insult. There are lesser moments where it doesn't work - So They Walk sounds like modern day Clutch, with a juicy, funky stoner riff that is instantly catchy, but becomes boring even before the end of the first run through, the odd vocal turns further damning the track; and Wrath of Aphrodite's The Cult meets Mother Love Bone throwback pushing the boundary a little too far for me.
But the album wins despite this, and largely due to my second key pointer. Morass of Molasses carefully construct each track so that the variances are wedded together harmoniously, the blues not at sharp odds with the doom, but also never allowing one facet to overtake and lapse into generic stoner rock tropes, ultimately lending a relative unique edge to their sound. The restraint lends an aura, one which marks These Paths We Tread out from the crowd.