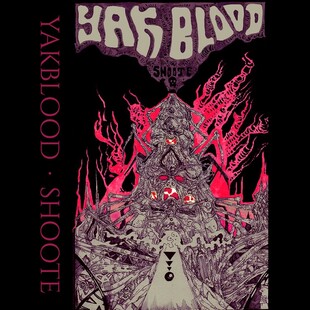 A stumble around bandcamp clicking on chains of links and recommendations, with a couple of cans to hand, is what amounts to a wild weekend evening in fatherhooded middle age. And I love it too, often rewarded with gems like this, an unheard of band, from an unknown label, and a release you instantly warm to. With no press bio as per normal reviewed material, and little found in basic searches (the label is French, that's about the sum of my knowledge gained), I'm left with nothing but Yakblood's music.
Centrally, Shoote is sludge, but so raw it sounds as if it's a live recording, from within a punk squat, through a flickering PA, untuned, uncomfortable, unsanitised. For all the motion-sickness sensation this can bring, particularly when listening through earphones, it lends an authentic and grimy feel to the whole release, adding to an irresistible allure.
The overriding doom premise is contaminated by a crust sensation, an illusion presumably carried from the production. The soloing and stoner-ish guitar work in the latter stages of Doomed City Dogs stand against that image; when all considered together an excellent opener. Road to Blue Warehouse is built around a dense and slow sludge riff, satisfyingly heavy, before the speaker abuse becomes so intense it renders the second half an endurance test merely to sit through.
Ende is more circumspect to begin with, before revolving hardcore meets statuesque doom riffs. The gloomy mire it is set within casts a dark, imposing shadow, the powerless sensation of the weight of the moon crushing to Earth hovering over you. There is a definite apocalyptic nature to the ending, the base production parameters definitively played as instrument, closing in, blackening the sound.
This is a violation of the senses. But then this is sludge. It should be loud, abrasive and ugly. Yakblood embrace this, the resulting EP defiantly, scuzzily and endearingly compelling.