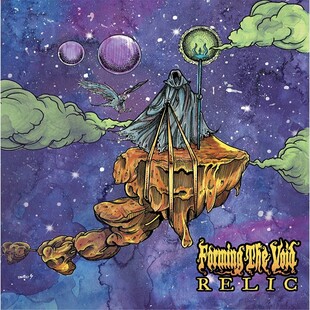 The gentle rhythm of the intro to After Earth, the opener of new album Relic is instantly warming, a luscious stoner melody of sunlight and summer and space. It is an embracing welcome. It gets louder, but never overly heavy, mid, latter day Baroness a defining influence. Forming the Void, from Louisiana, have an eye on progressive development of stoner and the lighter end of doom scale sounds, but keeping any full blown eccentricity in check so as to keep those rawer elements and remembering its roots.
There are a few references that crop into your mind, and while all from similar pastures, Forming the Void do well in avoiding the same calling card again and again. There are the odd nods to Torche or Sweet Cobra, such as on Endless Road but then that itself also merges into a modern stoner sound of Gozu or Freedom Hawk. The Sword's early bombast within a traditional stoner doom sound is also worth a punt as a guess into the influence input. This isn't to say this is a patchwork of contrivance either, just an indication that Forming the Void operate between the lines connecting various genres, as opposed to in the centre of any one.
It's not all great, some tracks missing a spark and instead coming across a little staid. It ends disappointingly too, first with a clumsily executed attempt at brooding psyche with Unto the Smoke, and then a decent, but ultimately pointless cover of Zeppelin's Kashmir, fine for the practice room but superfluous here.
When they are on it, it is quite something, nowhere more so than Biolazar, which comes through a slightly awkward beginning into bold brash riffs with big sweeping hooks and clean vocals atop, not a million miles away from modern Mastodon. It's the type of song a band can really make a statement with, noticeable from afar. Ultimately, despite the fluctuating levels of quality, the highlights form the memories to take away, Forming the Void offering more than most.