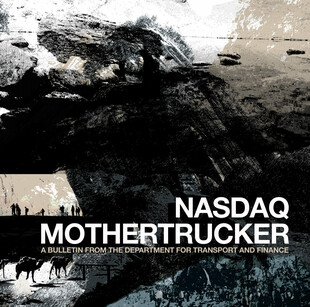 A meeting of instrumental minds, from Manchester and Birmingham respectively, both from the post rock seas that are within the distant glow cast by lighthouses set upon doom shores. Nasdaq have been fairly dormant for a while now, and Mothertrucker have always flitted between bursts of activity and long periods of silence, this therefore acting not only as an especially welcome release but as a safety in numbers reemergence, like a joint venture out for a claustrophobia support group, better together.
Nasdaq return Collataral (Damaged), a near quarter of an hour track. Meandering, light and shade, six minutes in it reminds me of Snowblood's more introspective moments with its deft touch of beauty and move into a heavier drive forward. The subtle traction is hard to spot, movements and evolution not tracked but only subconsciously realised, the track melting through your mind, so as to create a similar listening experience as the great heavy psych bands, without actually dipping the toe into the acid laced waters. For someone not overly enamoured with post rock, I find this relaxing to the point where I lose track of time and its ending comes as a surprise.
I've probably said it before - I first reviewed them for ninehertz twelve years ago - but you have to admire Mothertrucker's unwavering belief in applying imagination-firing titles to instrumental songs. Here it's with Gateway to Khyber and Saved by the Belgian, greedily offering double Nasdaq's contribution. The first of those feels its way along, then, halfway through, a flicker, a warmth begins to spread, from which they build a platform where they can pour outwards, never overly heavy, but with a grand and impressive assurance.
On to the latter. A bassy pulse, hypnotic guitar, this has me straight away, like only the best post-rock/metal can and should - breathless in anticipation as it constructs towards its release, so expertly engineered it is to that point. When that arrives it is arguably too heavy (yeah, I did just say too heavy, I'm shocked too) and too raw to truly befit what came before. Never mind, it moves on quickly, back into the swirling guitar, a fog of psychish creation, at times touching Earthless or even more straight up stoner rock vibes, a real hark back to Mothertrucker of old. It is a glorious indulgence to play out on.
After which, all album considered, I'm left with a satisfied, fuzzy glow. A dual fantastic return to the fray, and hopefully the beginning of a new chapter for both.